The Ability Toolbox is a disabled-owned small business. We use affiliate links, which means we may receive commissions at no added cost to you. Thanks!
These sensory bin ideas provide endless hours of fun, creativity, and learning for children of all ages. Ready to dive into the world of sensory play and learning? In this guide, we'll explore the best sensory bins for imaginative play and skill development.
As a neurodivergent adult, I know from my childhood that sensory play helped me learn to explore and enjoy new textures and experiences. So let's get started on this sensory bin extravaganza!
Last update was on: September 19, 2023 10:20 PM
Sensory Bins Overview
Sensory bins are all the rage these days, and for good reason! They're engaging, versatile, and provide a fantastic way for children to explore their senses while playing and learning. Here's an overview of what you need to know about sensory bins.
What are sensory bins?
Sensory bins are containers filled with materials that stimulate children's sight, hearing, touch, smell, and sometimes taste. They come in various shapes, sizes, and themes, offering endless possibilities for exploration and learning.
Sensory bins provide a great way for a busy toddler or older kid to explore their senses through tactile play. They can be themed to any holiday or academic skill. Enjoy watching your child explore and interact as they engage with these sensory play activities.
Sensory bins are often used in early childhood education, but they make an ideal imaginative play activity for home settings as well. They are an essential tool for professionals who support children with disabilities, such as occupational therapists, school psychologists, and special education teachers.
What ages can use sensory bins?
People of all ages can enjoy sensory bins — you're never too old!
We mostly think of sensory bins for toddlers, but beyond early childhood brain development, they provide both enjoyable sensory experiences and beneficial sensory input to older kids, teens, and adults. They are especially helpful for children and adults with autism, ADHD, cerebral palsy, Down syndrome, and other disabilities.
Last update was on: October 2, 2023 6:43 AM
What are the educational benefits of sensory bins?
Sensory bins are not just fun, they are also highly educational. According to Julie Anderson, Ph. D. of the University of Puget Sound, children can learn many different skills through sensory play, including:
Fine motor skills: Activities such as grasping, squeezing, and searching for hidden items
Mathematical and scientific concepts: Actions like counting, measuring, mixing, pouring, dumping, stacking, and comparing lay the groundwork for learning about math and science.
Literacy development: Activities like identifying and arranging letters, narrating stories during play, and learning new vocabulary words contribute to literacy development.
Social skills: Interactions involving sharing, cooperation, and working with others foster the growth of social skills.
Sensory Bin Safety
Are sensory bins safe for young children?
Sensory bin play can be a safe activity for young children. Always supervise play and be mindful of choking hazards and allergies when selecting materials.
Who should not use sensory bins?
Sensory bins may not be appropriate for children and adults with significant intellectual disabilities if they are not capable of understanding that the toys and filler are not food. This is especially true if the person has pica — a disorder where they frequently eat non-food items. In those cases, you'll need to use a container filled with only edible items, or use other types of sensory toys.
If your child cannot use a sensory bin due to pica or other safety factors, sensory bags are a great alternative as the items are safely contained within a sealed pouch.
The Benefits of Sensory Bins for Children with Autism
Sensory bins can be particularly beneficial for children with autism spectrum disorder (ASD) and other disabilities. Children on the autism spectrum often experience sensory processing difficulties, meaning they may be over- or under-sensitive to sensory stimuli. Sensory bins provide a controlled environment where your neurodivergent child can explore different sensory experiences at their own pace and comfort level.
The varied textures, colors, and materials in a sensory bin can help autistic children develop their sensory processing skills, making them more comfortable with different sensory experiences in their everyday lives. Sensory bins can also aid in the development of fine motor skills, hand-eye coordination, social skills, and language development, as children manipulate the materials and toys in the bin and talk about their experiences.
Sensory bins can have a calming effect on kids with autism, providing a focus for their attention and a distraction from potentially stressful or overwhelming situations. They also allow for self-directed sensory play and hands on learning, which can boost confidence and independence.
It's important to tailor your sensory bin ideas to the individual child's needs and preferences, and to provide appropriate supervision and support.
Last update was on: September 19, 2023 10:20 PM
Pre-Made Sensory Bin Ideas
Setting up sensory play stations in your classroom or home can be time-consuming. These pre-made kits provide children with an awesome multi sensory activity that is easy to set up quickly. The sets encourage fine motor skill development and hand-eye coordination. Themed sensory bin sets feature time-honored classic topics kids love such as dinosaurs, construction vehicles, unicorns, and more.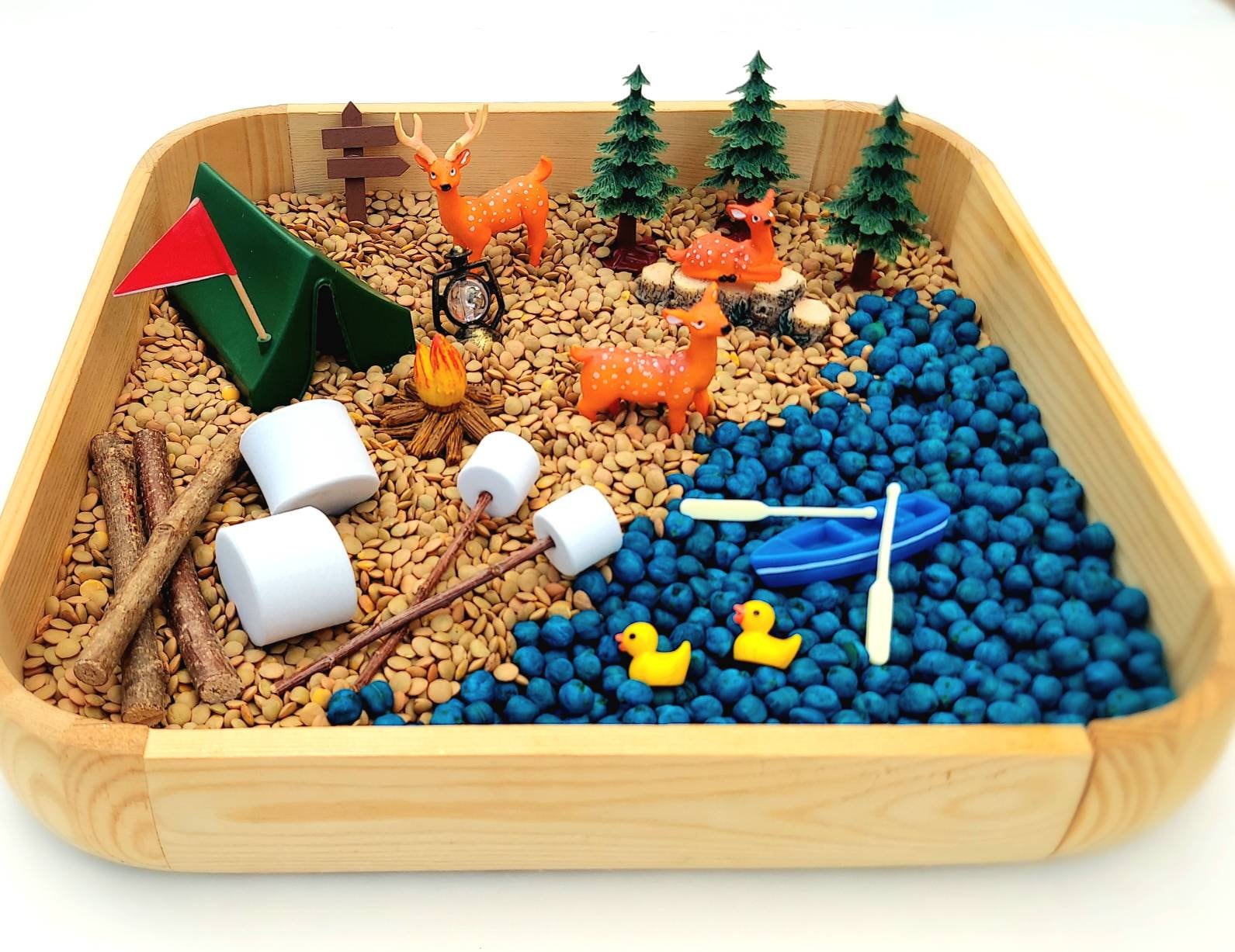 Sensory Bin, Camping Sensory Bin, Sensory Kit, Sensory Kit for Kids, Sensory Bin for Toddler, Sensory Bin Kit, Sensory Bins for Kindergarten
as of September 19, 2023 10:20 PM
If you don't see just the right kit featured above, check out our favorite small businesses that make totally unique options: Joyful Play Shop, Ella Roos Academy, and Busy Bee Sensory Canada.
Dough Bin Ideas
These bins are designed around Play-Doh or cloud dough for hours of fantastic fun squeezing and stretching!
To see more dough sensory kits, check out these small businesses: Kids World US, Learning Safari, and Kids Kit USA.
Water Bin Ideas
Water bins encourage imaginative play and exploration using water, making them a refreshing alternative to traditional sensory bins.
Kinetic Sand Bins and Kits
Sandboxes are a classic, and for good reason — they're simple, fun, and tap into kids' natural instinct to explore. 
Sensory Trays
Sensory trays are more compact and work well in small spaces, and for older kids and adults who are less messy. You'll love these creative sensory tray ideas. 
For more fabulous handmade sensory trays, check out Ella's Create and Play and Barn Owl Kids.
Sensory Tables
Sensory tables are an excellent tool for kids' sensory fun. They offer a broader platform for exploration and learning. Sensory tables are particularly beneficial in group settings like classrooms or playdates, allowing multiple children to engage with the materials simultaneously. This encourages cooperative play and social interaction. With adjustable heights and various compartments, sensory tables cater to different age groups and needs, making them a versatile choice for sensory play.
The Art of Creating a Sensory Bin
Yes, you can buy pre-made sensory bins, but creating a sensory bin is more rewarding. It's like being a child's playtime architect, designing a world of different textures, colors, and experiences that will stimulate their senses and foster their creativity. But, how do you create a sensory bin? Just follow these steps.
Consider Your Child's Needs and Preferences
When designing sensory bin ideas for your child, consider their age, interests, and developmental requirements. Always take your child's sensory preferences into account. Some kids may enjoy the feeling of dry rice or beans, while others may prefer the sensation of soapy water or sand.
For toddlers, opt for taste-safe materials and larger items to minimize choking hazards. As your child grows, you can introduce more complex sensory bin themes and materials to challenge their skills and keep them engaged.
If your child has a developmental delay or other disability, consider how you can make the best sensory bin for their specific needs. Does your child need to work on fine motor skills? Do they seek out certain sensations? Are they repulsed by particular textures? Do they have a favorite color or special interest that you can incorporate into sensory bin ideas?
Never push your neurodivergent child beyond their limits with tactile stimuli — that's a recipe for sensory overload and a meltdown. If you're trying to introduce an unfamiliar texture or desensitize your child to a stimulus that bothers them, start slowly. Fill the sensory bin with items they love and just one unfamiliar or less pleasant one, then make it a treasure hunt where they'll get a reward for finding and touching or holding the item. Never "sneak" items that might cause discomfort into the bin without telling your child — that's a betrayal of their trust and could give them anxiety about engaging in sensory play in the future.
Choose a Sensory Bin Theme
Creating a sensory bin starts with choosing a theme or purpose for the bin. Some sensory bin ideas include designing around a particular sensory experience you want to provide, a skill you want to help develop, or a topic of interest to your child. This acts as the foundation of your sensory bin, guiding the selection of materials and toys to include.
Sensory Bin Containers
A sensory bin container sets the boundaries for your sensory play universe and should be large enough to hold your chosen materials and toys, but shallow enough for the child to reach in and explore. It can be anything from a large plastic tub or bucket to a shallow dish or tray. Dish tubs or shoebox storage containers make great indoor containers. You can also buy a dedicated sensory table with one or more integrated bins. These are especially good for school classrooms. I recommend box with lids so you can stack them for storage and not worry about them spilling if they get knocked over. You don't want to spend hours sweeping up rice! 
Here are some simple containers we recommend:
Sensory Bin Fillers
The sensory materials, or fillers, are the stars of the sensory bin. These can be any materials that are safe for the child to touch. The sensory bin fillers you choose should align with your theme or purpose and provide a variety of textures for the child's senses to explore.
Some examples of sensory bin fillers include:
Dry rice
Dry pasta
Corn kernels
Water beads
Sand
Cloud dough
Pom poms
Kidfetti
Some sensory bin filler material can be dyed using food coloring. Try using your child's favorite colors, especially if they are tactile defensive or anxious about touching items in the bin.
Here are some excellent sensory bin fillers to get you started:
We highly recommend the small business Sensory N' Stuff for affordable and safe fillers, and The Sensory Sisters for UK residents.
Sensory Bin Toys
Finally, add toys or objects to the sensory bin filler. These should also align with your theme or purpose and provide additional opportunities for sensory exploration and play. For example, if you're creating a beach-themed sensory bin, you might include small plastic sea creatures, shells, and a mini bucket and spade. Dollar store finds, household items, and even food coloring can be used to craft the perfect sensory experience.
Remember, the aim of a sensory bin is to provide an engaging sensory experience for the child. So, feel free to get creative and experiment with different themes, materials, and objects. For more sensory bin ideas, explore various materials and textures to keep things interesting. There are no hard and fast rules, just opportunities for sensory fun!
Here are some fun toys you can use to make a fabulous themed sensory bin:
If you're looking for small trinkets for sensory kits, Speech and Smile, a small business owned by a pediatric speech-language therapist, has an amazing selection.
Keep Exploring Sensory Bin Ideas
Sensory bins offer a fantastic way for kids to explore their senses, engage in imaginative play, and develop crucial skills. From bins for toddlers to older kids and adults, there's an option for every person and every need. So, go ahead and dive into the wonderful world of sensory play, and watch as your child's imagination and skills flourish!
Last update was on: September 19, 2023 10:20 PM
Check Out More Sensory Play Resources in The Ability Toolbox
Hey I'm Olivia and I'm a proud Autistic woman. My special interests are cats, stim toys, and electronic music! I love to write and help other Autistic adults find ways to enjoy life in this LOUD world!
Dr. Wilson graduated from Rosalind Franklin University of Medicine and Science and completed her residency in Internal Medicine at Advocate Good Shepherd Hospital in Barrington, IL. In addition to her private practice, she works as a science communicator, teaching health literacy in schools and online.