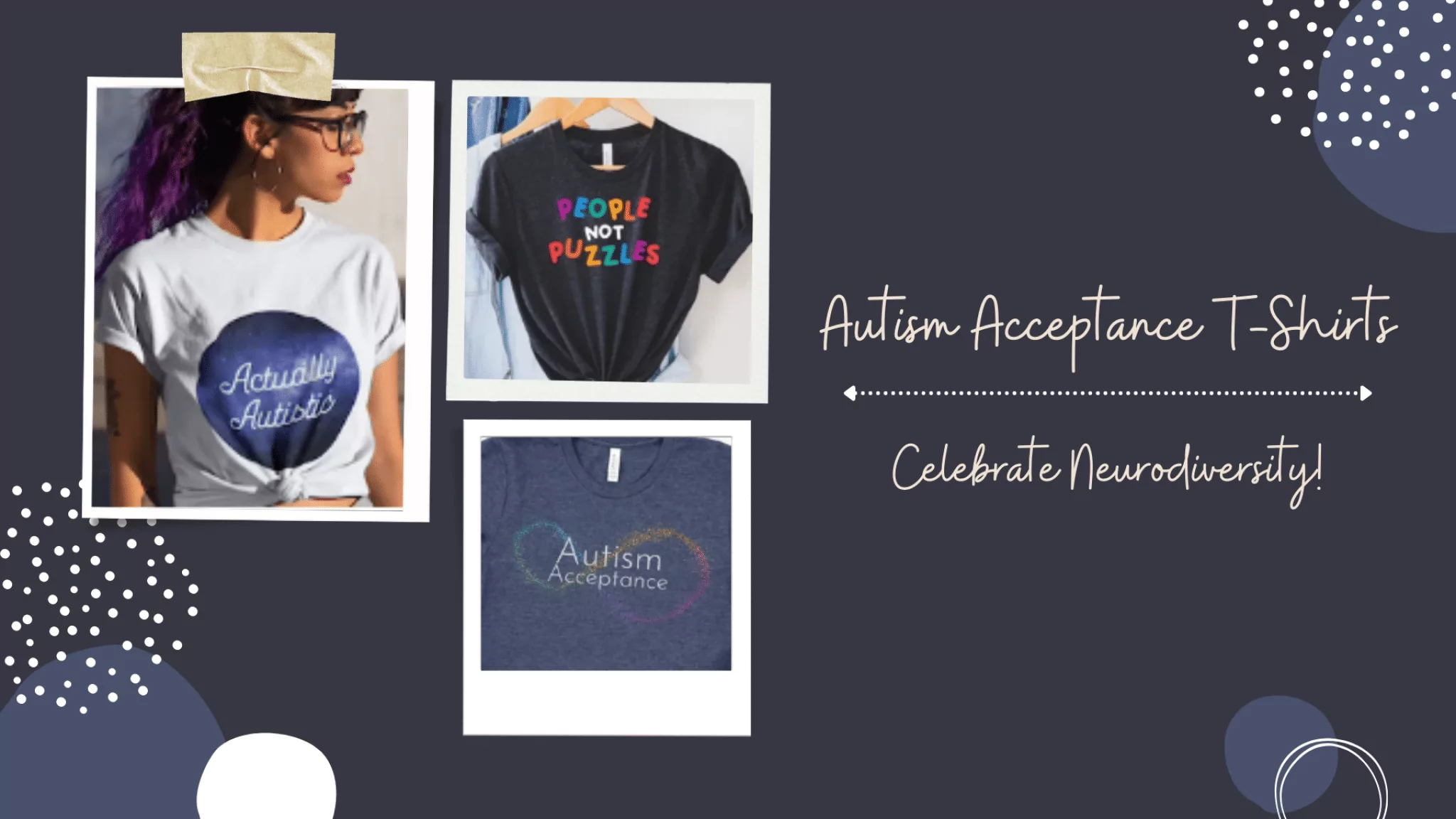 I wear my autism t-shirts a lot because I want to fight stereotypes and celebrate the beauty of neurodiversity. Autism awareness t-shirts can start conversations about the gifts and challenges of life on the spectrum, and autism acceptance t-shirts show that autistic children and adults are amazing just the way we are. Most people know (or think they know) what autism is, but real autism awareness is about showing the world that most of us aren't Rain Man or The Good Doctor, we're your family members, friends, and neighbors, and you may or may not have noticed that there's something different about us. Different, not less!
These are some of my favorite small businesses that have autism t-shirts for sale. Every design I chose celebrates autism acceptance and neurodiversity. We NEVER promote the puzzle piece, Autism Speaks, or anyone who thinks autistic people need to be cured or fixed. At the Ability Toolbox, we believe in supporting disabled-owned businesses and independent artists whenever possible. We aren't always able to tell whether a store is autistic-owned or neurodivergent-owned, but if we can, we include that information. 
To make the t-shirts easier to browse, I've split them into two sections — one section for autistic adults and one for kids, parents, and educators. But chances are high that you'll find something you love in BOTH sections! 
This post contains affiliate links, so if you make a purchase, we may receive a small commission at no additional cost to you. Proceeds help us pay writers with disabilities and keep the site online.
Autism T-Shirts for Autistic Adults 
This clothing is designed for autistic adults and our neurodivergent allies to show our pride and stand up for the right to be ourselves without apology.
Actually Autistic T-Shirts – Neurodivergent-Owned Business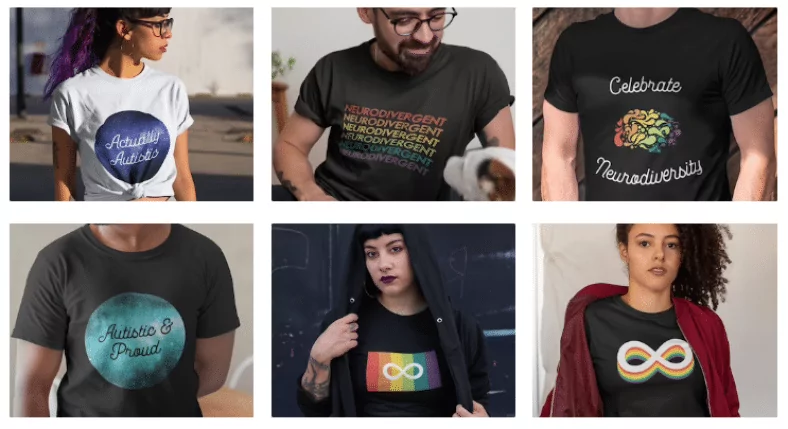 I love these shirts that celebrate neurodiversity with bright colors and the infinity symbol for autistic pride. The neurodiverse designer also makes clothing that celebrates the LGBTQ+ community and raises awareness about mental health.
Shop for neurodiversity t-shirts at Neurocreative.
Unapologetically Autistic and Stimming T-Shirts – Autistic-Owned Store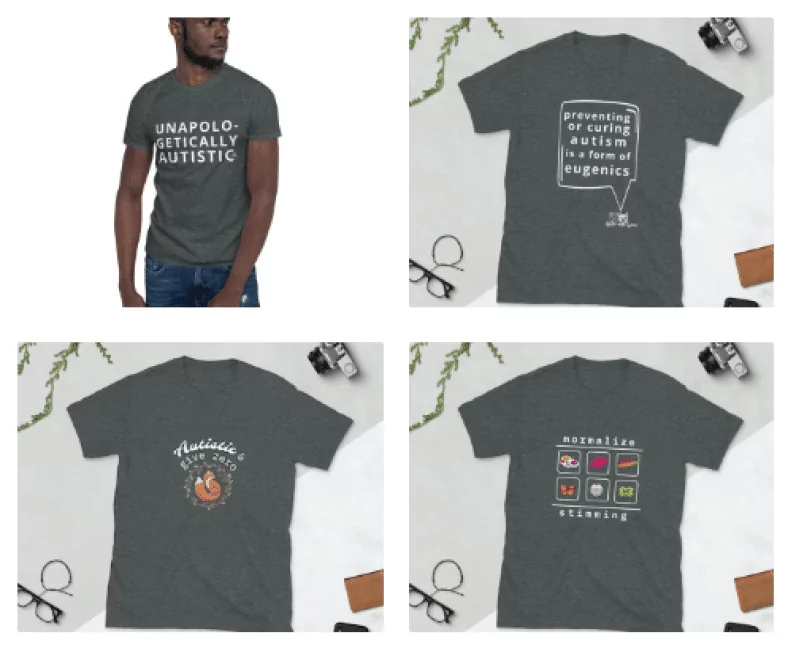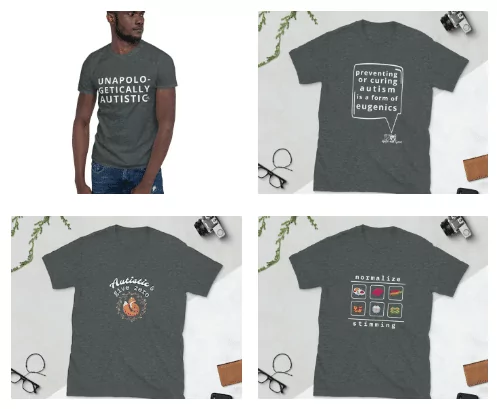 Being unapologetically autistic means stimming without shame, whether it's by flapping our hands, using a fidget toy, or chewing on chewelry. It means celebrating our autistic neurology and letting the world know we DON'T need to be cured. We are different, not broken. This autistic-owned business represents all these values with the positive yet pointed messages on its apparel.
Shop for autism empowerment clothing at Autie and Spoon.
Neurodiversity Sweatshirts and T-Shirts – Neurodivergent-Owned Store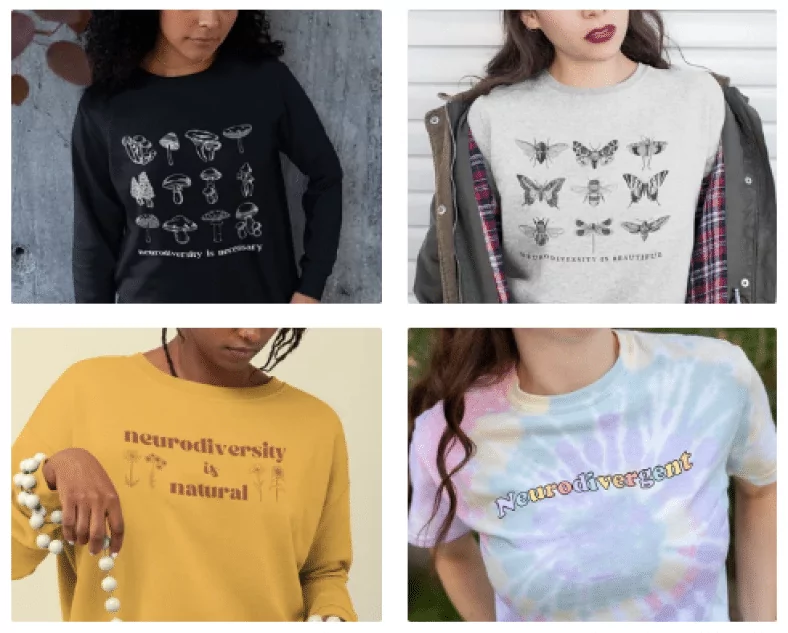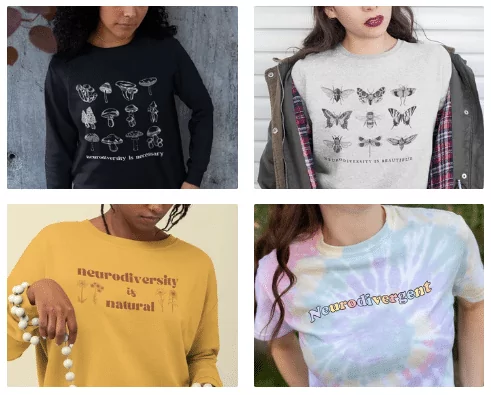 Neurodiversity is part of nature — I think too many people forget that. Being autistic in a neurotypical world isn't easy, but maybe we're the next stage in human evolution. If the human race manages to survive another 500 years without burning, flooding, and polluting our planet into an uninhabitable hellscape, it would not surprise me if our future society values knowledge, creativity, and simplicity, instead of the overwhelming sensory chaos we live in today. I feel most at peace in nature, and if you do too, you'll love these sweatshirts and short-sleeved shirts made by a neurodivergent artist.
Shop for neurodiversity clothing at Edward Teach Apparel.
Autism T-Shirts – Autistic-Owned Business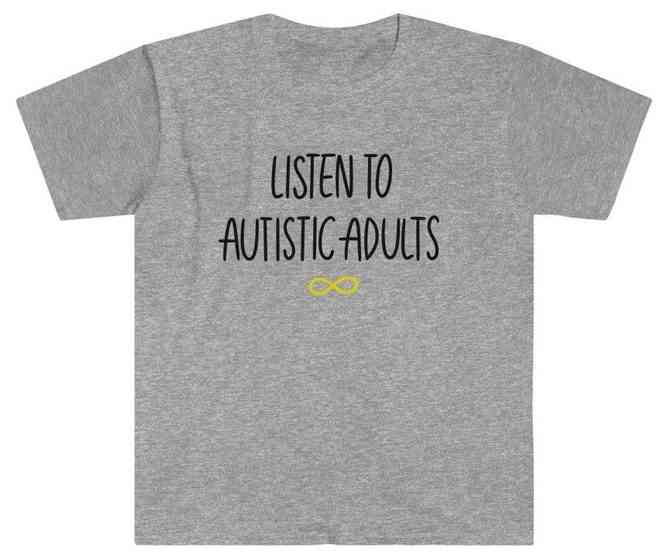 Ausome Doodles Shop is proudly autistic-run and sells many empowering shirts for autistic adults (and a few in kids' sizes as well). They address issues that are important to our community, such as the importance of listening to actually autistic people and the problems with the autism puzzle piece. 
Buy autism t-shirts at Ausome Doodles Shop.
Rainbow Brain Steampunk Neurodiversity T-Shirt – Autistic-Owned Shop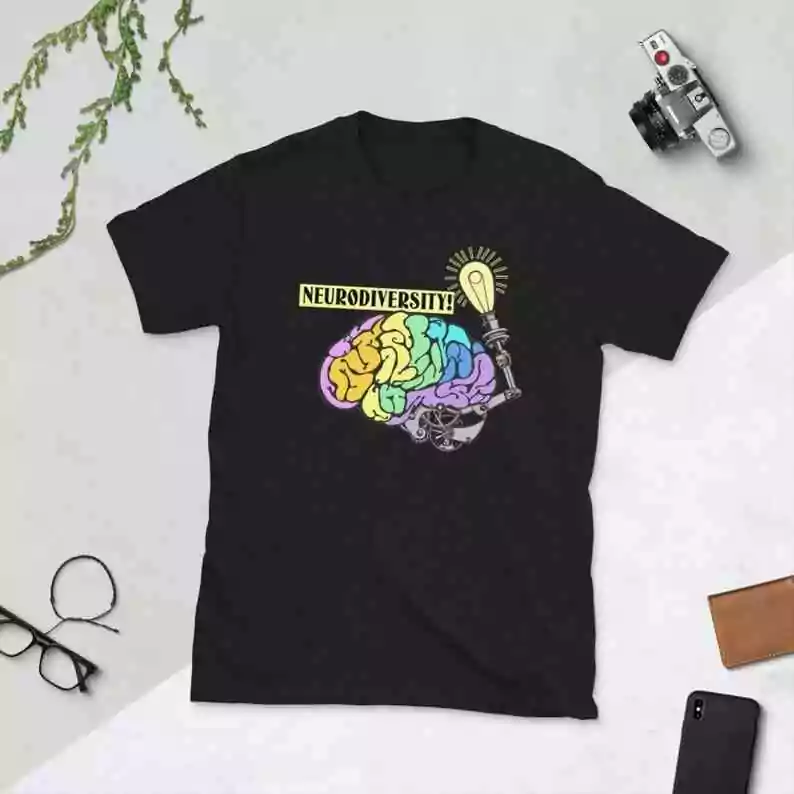 I love steampunk, how about you? It's popular with autistic people and so I chose to feature this shirt — it's just one of many shirts, stickers, and jewelry for people with different and proud minds available at this shop run by an awesome autistic person.
Shop for positive autism t-shirts at Marvelous Minds Art.
Autistic and Proud Hat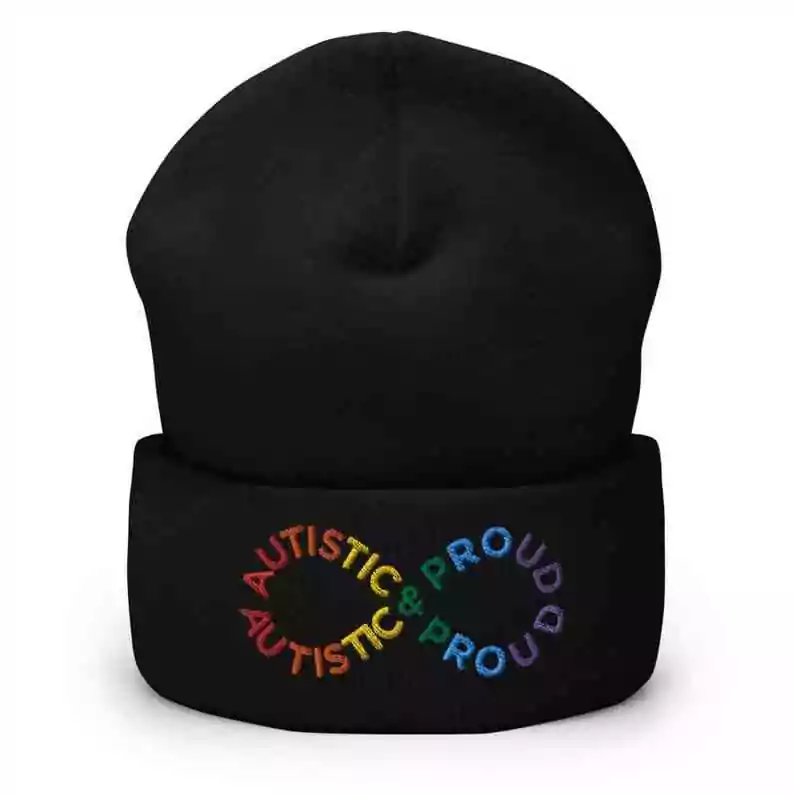 I love the neurodiversity infinity symbol design of this autism hat, and it's great to have another clothing option besides t-shirts and sweatshirts.
Shop for autism hats at Hokum and Snark.
Neurodiverse Infinity Animal T-Shirts – Actually Autistic Designer


Is your autism more like a wolf, an elephant, or a fox? (I feel like only neurodivergent people will get this, and you know what, that's fine!) This autistic artist has created 10 different infinity animals to choose from, so you can choose the one that fits you best. Although I really need an autism possum or an ADHD honey badger. 
Shop for clothing designed by an actually autistic artist at NeurodiversiTee.
Black Autistic Lives Matter T-Shirt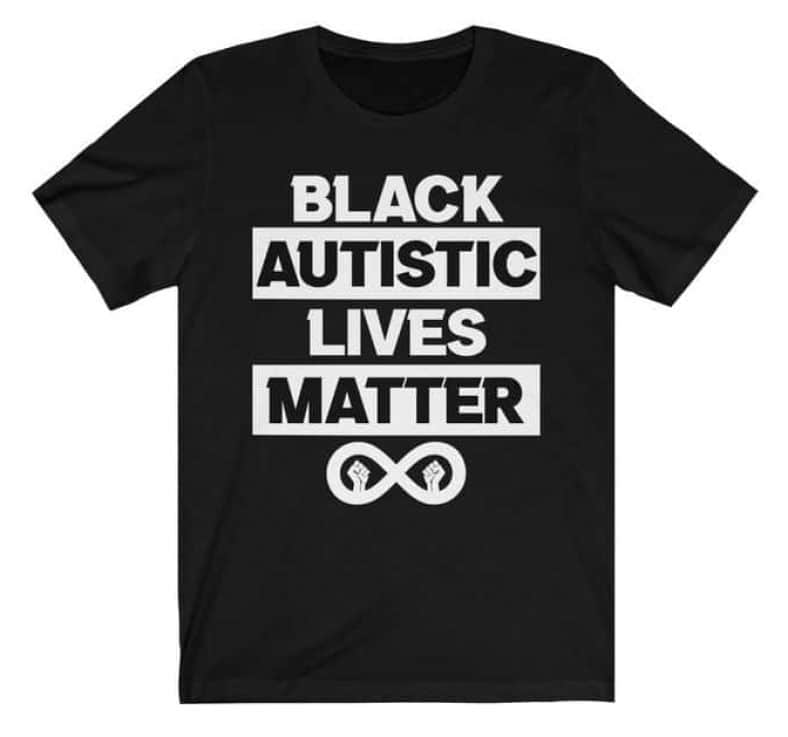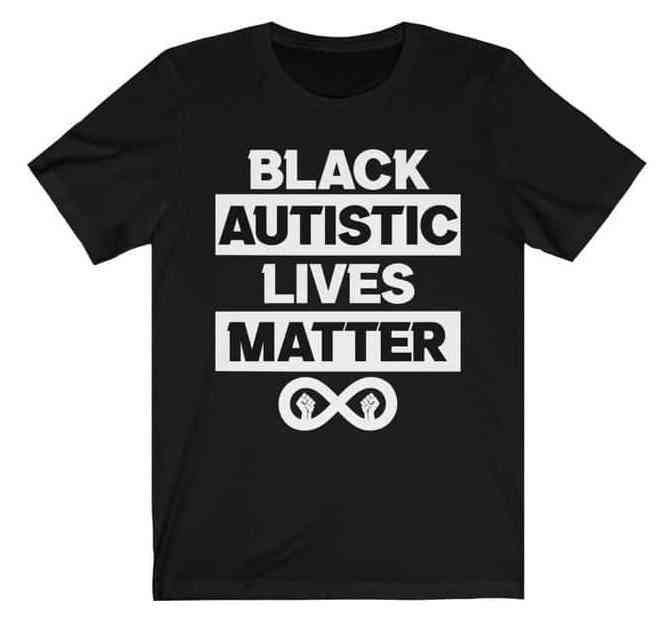 Black autistic people experience a very high rate of discrimination and violence at the hands of institutions and individuals. You can show your support of this community and the larger BLM movement with this t-shirt — and check out more neurodiversity t-shirts from this designer as well.
Shop for autism t-shirts at AssisTees.
Autism T-Shirts for Kids, Parents, and Teachers
These autism t-shirts carry family-friendly messages of acceptance that are perfect for educators and parents of kids on the autism spectrum — and autistic kids and adults too!
Adorable Autism Acceptance T-Shirts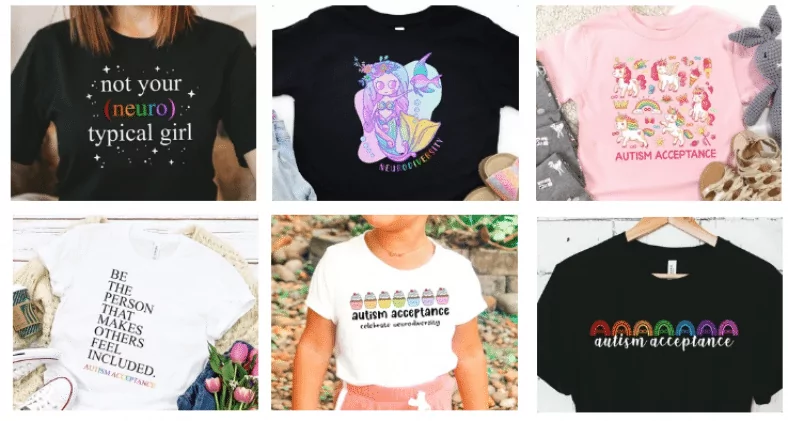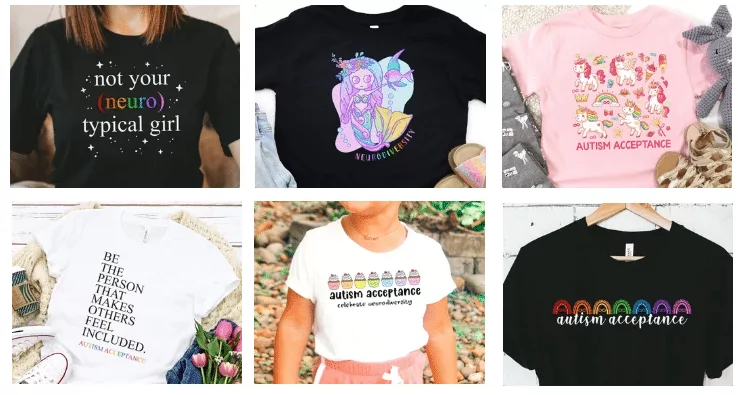 I love these autism t-shirts because they are both fun AND support positive messages about inclusion. These shirts feature mermaids, unicorns, rainbows, and the infinity symbol chosen by the neurodiversity community (instead of that yucky puzzle piece, which most autistic adults find offensive). Above you can see just a few of the many designs they have available. They are available in child and adult sizes, too!
Shop for child and adult autism clothing at Sky and Earth Tees.
Autism Acceptance Clothing – Different, Not Less
Autistic children and adults are different, not less, and we need autism acceptance to live our best lives. These shirts say it all!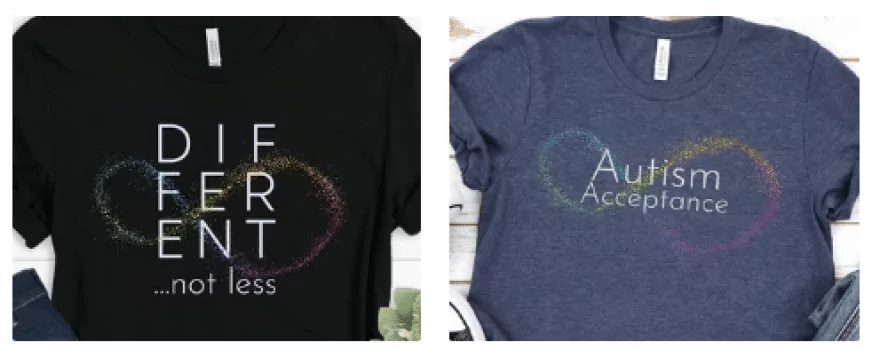 Autism Clothing for Teachers and Families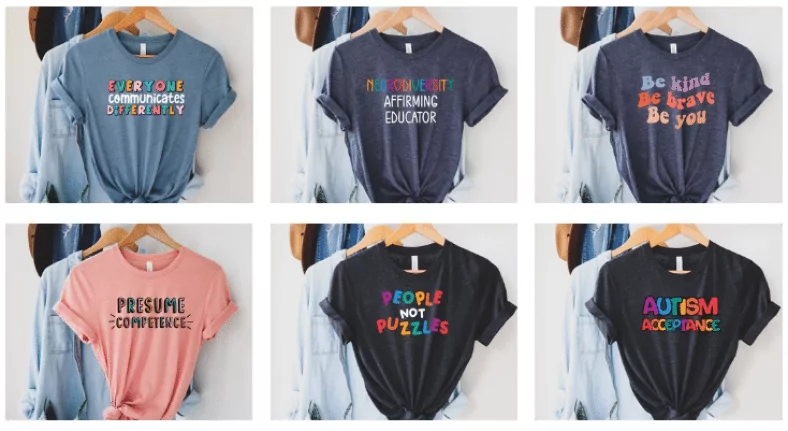 I'm an autistic adult in my 30s with no kids and I have one of these t-shirts. They are so colorful and fun, they're perfect for everyone! Teachers and parents of kids on the autism spectrum can find the right message for your next IEP meeting or just to wear to the grocery store. I'm also happy to see that parents and educators are getting the message that the autism puzzle piece is offensive and addressing it in a family-friendly way. 
Shop for autism inclusion and education t-shirts at Rainbow Mama Design.
Neurodiversity Infinity Symbol Autism T-Shirts
These shirts are great for kids and adults — the message of protecting neurodivergent children is especially important!
Shop for autism acceptance clothing at Mouthy Broad Co.
Didn't find what you needed? Check out Autism Acceptance Pins and Stickers.
Are you an autistic, neurodivergent, and/or disabled-owned small business who sells on Etsy? We want to feature your work in this or another article at no cost to you. Contact us.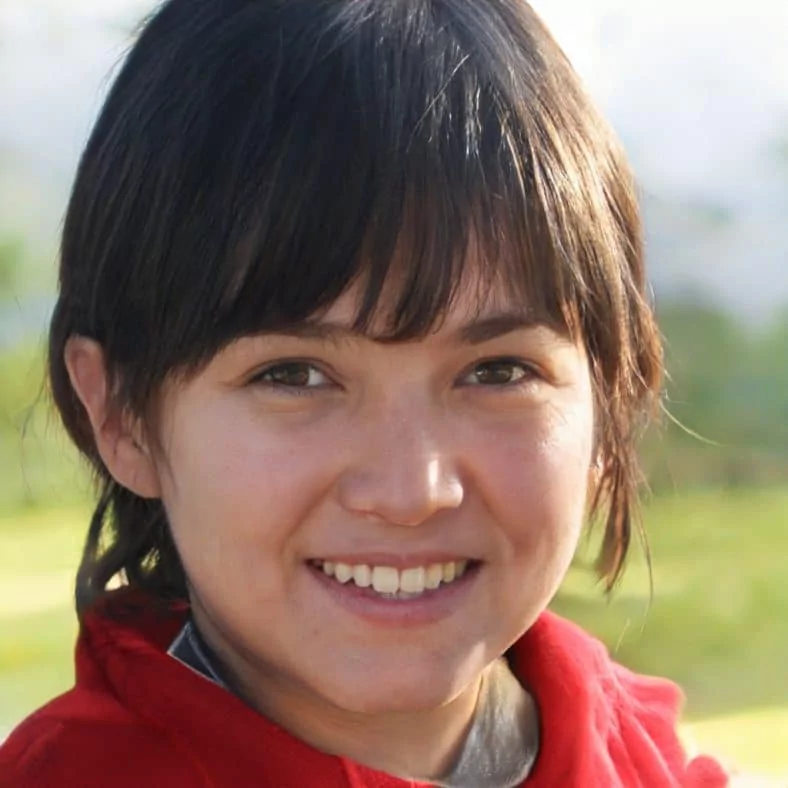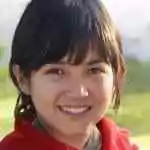 Hey I'm Olivia and I'm a proud Autistic woman. My special interests are cats, stim toys, and electronic music! I love to write and help other Autistic adults find ways to enjoy life in this LOUD world!