The Ability Toolbox is a disabled-owned small business. We use affiliate links, which means we may receive commissions at no added cost to you. Thanks!
Chewelry, also known as chew jewelry, can help people on the autism spectrum, as well as those with sensory processing disorder, ADHD, and other forms of neurodivergence to manage their sensory needs. 
Skip to the Good Stuff
This post contains affiliate links, so if you make a purchase, we may receive a small commission at no additional cost to you. As an Amazon associate, we earn from qualifying purchases.
Last update was on: September 23, 2023 12:18 AM
What is chewelry?
Chewelry is a portmanteau, a word made by combining two others — in this case, chew and jewelry. It's jewelry you can chew on. Most chewelry is made of food-safe silicone, but it can also be made from braided cotton fabric, rope, and other materials. Chewelry comes in a variety of strengths and toughness levels for different sensory needs and to accommodate less and more aggressive chewers. Pendants and beaded necklaces are the most common types of chewelry. 
Who needs chewable jewelry and why?
Chewable jewelry is most often used by children and adults on the autism spectrum and/or with other neurodevelopmental disabilities such as cerebral palsy, Down syndrome, sensory processing disorder, ADHD, etc. Some people with mental health conditions such as anxiety, and those who struggle with body-focused repetitive behaviors (BFRBs) such as nail biting, skin picking, and hair pulling (trichotillomania) may also benefit from chewing. Whether you have one of these diagnoses or not, if you think you might benefit from chewelry, it is worth a try! 
Chewing is a form of stimming, also known as sensory stimulation. It's basically fidgeting with the mouth instead of the hands. People who bite and chew outside of eating are sensory seekers in the area of oral motor input — they need sensation of this type to self-regulate. They chew to cope with stress, anxiety, boredom, and/or because of sensory overload involving other senses. Self-soothing with oral sensory input is a normal part of human development. Babies and toddlers put everything in their mouths as a way of exploring their environment, and pacifiers can help them calm down when they're overwhelmed. 
Because neurodivergent people process sensory information differently than neurotypical people, the need to chew can persist into later childhood and adulthood. There is nothing wrong with this, and they should never be judged negatively for it. Supporting people who chew is a key part of being an ally to actually autistic people and celebrating neurodiversity. Chewelry is a coping tool, and along with items such as sensory toys, fidget jewelry, and noise-canceling headphones, it can be an essential item in your sensory toolbox.
Is chewelry safe to use?
Yes, when chosen and used carefully, chewable jewelry is safe. But always keep the following safety tips in mind:
Never leave young children unattended with chewable jewelry, especially necklaces with small beads or pendants that look like food.
Always check the integrity of chew jewelry before use. Make sure beads are not damaged and cords are not frayed, as these can be a safety hazard. Throw away damaged chewelry and replace it. If you or a loved one has a strong preference for a certain style or type of pendant, consider buying multiples in case one breaks suddenly or replacements become hard to find. 
It is extremely important to know where your chewelry comes from, to make sure it is safe to put in your mouth. The silicone should be food grade and BPA, PVC, lead, phthalate, latex, and cadmium free. Many of the companies listed here are small businesses run by neurodivergent people or people with neurodivergent family members, and they are extremely careful about buying safe, food-grade silicone.
Choose the right items for your chewing needs. Most chewelry will be marked as being for light, moderate, or aggressive chewers. You may also need different levels of chew strength/stiffness depending on your mood. If you will be in a situation you know could trigger a meltdown or panic attack, you might want to wear more durable chewelry that is less likely to get damaged if you bite while you are not in a mental state to judge its safety.
Chewelry (Chew Jewelry) for Adults on the Autism Spectrum – Where to Buy
So many autism-focused websites and shopping guides are geared toward children and parents. Products are designed for children, with seemingly no awareness that people do not outgrow autism, sensory processing disorder, and ADHD. Autistic adults need to chew too, and all neurodivergent people need access to stim and fidget items that reflect who they are and where they are in life. You're never too old to love cartoons, but a SpongeBob chewy might not be the best fashion accessory for a business meeting or hot date. That's why we've created this buying guide that includes chewelry that adults and teens can feel comfortable wearing in school, work, and social settings. Many of the businesses we've included are autistic-owned, and all are small businesses that need your support to keep making jewelry for the neurodivergent community. 
Chewable T-Shirt Necklaces
Many sensory seekers like to chew on their shirt sleeves, collars, and hoodie strings. If you do this, a cotton fabric chew necklace made of t-shirt material can address this need — and save your clothes! 
Braided Sensory Chew Necklace Made of T-Shirt Material
Last update was on: September 23, 2023 12:18 AM
These fabric necklaces come in a wide variety of colors to match any outfit. They're great for all ages and genders to help with sensory needs. The creator also sells t-shirt bracelets and silicone chewelry for neurodiverse adults and kids.
Shop for t-shirt chewelry at Chewanators with Style.
Silicone Chewelry Necklaces
This type of chewelry is made with food-grade silicone beads. It comes in different levels of firmness to meet your oral sensory motor needs. We've chosen small businesses to feature that celebrate neurodiversity and recognize and support adults who need to chew.
Sensory Chew Necklace – Tree of Life and More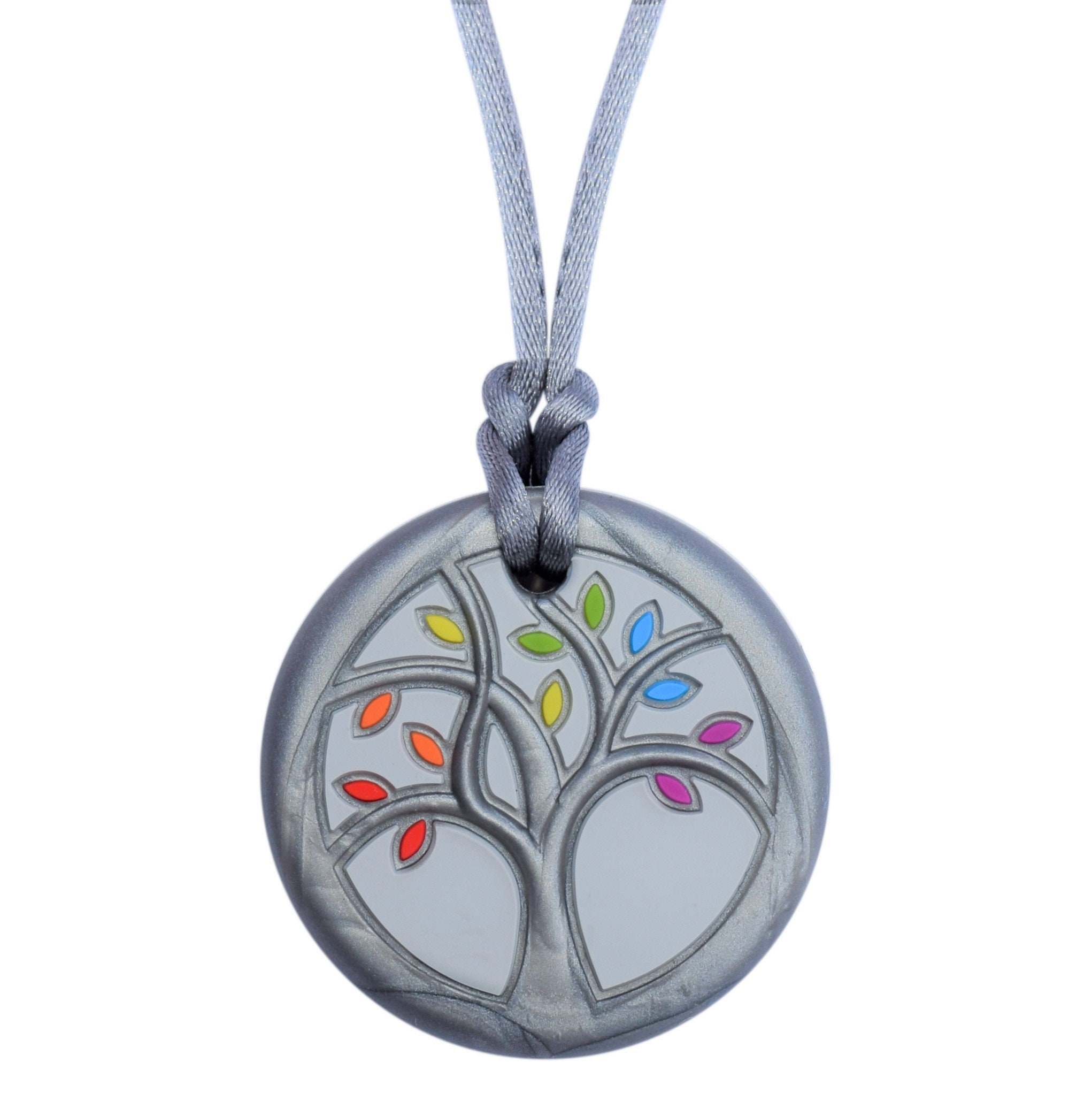 Munchables Tree of Life Sensory Chewelry – Adult Chew Necklace
as of September 23, 2023 12:18 AM
This unique chewable pendant looks like fine metal jewelry, but it's actually food-safe silicone. It's designed for light to moderate chewers and ideal for professional and social events where you need to dress up.
The company, Munchables, is endorsed by the Canadian Association of Occupational Therapists, and offers oral motor aids for both adults and children. They are based in Canada but offer fast shipping to the US too. They have so many great pendants to choose from!
See more sensory chews at Munchables.
LGBTQ+ Inclusive and Subtle Chewelry – Autistic-Owned Business
Last update was on: September 23, 2023 12:18 AM
These chewelry necklaces are made by an LGBTQ+ crafter who is autistic, epileptic, and has ADHD. They have designs based on TV themes, LGBTQ+ identities, and more. 
Check out Stimmy Shake Shop, an autistic-owned small business.
Silicone Chewelry Necklace – Autistic Artisan
Last update was on: September 23, 2023 12:18 AM
These necklaces have fun shapes for both fidgeting and chewing. The All Things Sensory Shop is owned by a woman with autism, sensory processing disorder, and anxiety who designs silicone sensory jewelry for adults, as well as fidget toys and other useful stim tools. 
See more chew jewelry for adults at The All Things Sensory Shop, an autistic-owned company.
Sensory Chew Jewelry for Adults on the Autism Spectrum 
Last update was on: September 23, 2023 12:18 AM
Necklactic offers a wide variety of pendants neurodivergent teens and adults can wear anywhere to meet their oral motor needs. They have chewable silicone beads that look like real stones, and other chewy necklaces in a wide variety of styles. 
Shop for sensory chew jewelry at Necklactic.
Cute Chewelry – Disabled-Owned Business
Last update was on: September 23, 2023 12:18 AM
This chewelry is so cute and appeals to kids, teens, and adults. They're sure to have something related to your or a loved one's special interests. Plus, you will be supporting a disabled-owned business when you shop!
Shop chewelry for adults and teens at Revan's Place.
DIY — How to Make Your Own Chewelry
Want to make your own chewelry? You can cut old cotton t-shirts into strips and braid them to make a chewable fabric necklace.
Making silicone beads is a complex process and too much work just to make a few items for yourself. However, pre-made food-grade silicone beads are readily available, so you can save money and easily create your own custom chewable bracelet, necklace, etc. exactly the way you want it. We recommend Chews Me, a veteran-owned small business — they carry everything you need to make your own jewelry or you can even buy wholesale and start your own business.
More Chewelry
Didn't find what you need from the small businesses above? Here are a few options from Amazon.
Last update was on: September 25, 2023 12:53 PM
Are you an autistic, neurodivergent, and/or disabled-owned small business owner who sells on Etsy? We want to feature your work in this or another article at no cost to you. Contact us.
More ADHD & Neurodiversity Resources in The Ability Toolbox
Hey I'm Olivia and I'm a proud Autistic woman. My special interests are cats, stim toys, and electronic music! I love to write and help other Autistic adults find ways to enjoy life in this LOUD world!