The Ability Toolbox is a disabled-owned small business. We use affiliate links, which means we may receive commissions at no added cost to you. Thanks!
Safe shower chairs are an essential tool for seniors and people with disabilities who have difficulty standing or maintaining balance while bathing. A shower chair provides you with safety and comfort, reducing the risk of accidents, slips, and falls. If you have mobility issues, a bath chair can empower you to enjoy greater independence and maintain personal hygiene with ease.
I am a lifelong wheelchair user with cerebral palsy, a travel blogger, and an advocate who is determined to empower others with disabilities. I've spent decades researching and testing various shower benches and chairs — and encountered some that were wonderful, and far too many that were unsafe. In this article, I'll discuss how to choose the right safe bathing aid for your needs, whether you're elderly, have a disability, or just need some extra support while showering. I'll also share my top picks for the best shower chairs, based on factors like stability, comfort, and ease of use.
This article contains affiliate links, so we may receive a commission from sales at no added cost to you. As an Amazon associate, we earn from qualifying purchases.
Bathroom Safety Basics
The bathroom is one of the most dangerous places in your home, especially if you're elderly or have a disability. Let's look at the numbers:
Preventing Falls in the Bathroom by Using a Shower Chair
Seniors and people with disabilities are at especially high risk of falling in the bathtub or shower. Fall-related bathroom injuries are common and can lead to potentially devastating, even fatal consequences for elderly people, such as a hip fracture or head injury. Therefore, if you are aging or have limited mobility, fall prevention is key — and shower seats can help keep you safe.
A roll-in shower or wet room shower is the gold standard for accessibility, but not always feasible due to cost.
How to Choose a Safe Shower Chair
A shower chair, along with grab bars and non-slip floor stickers, can help prevent disabled people and seniors from tripping, slipping, and falling. But not all bath chairs are created alike, and each person has different needs that can affect shower chair safety and usability. So how do you choose a safe shower chair for yourself or a loved one who is a fall risk? Here are some factors to consider when selecting a shower chair.
Shower / Bathtub Dimensions
The shower seat size you choose will, to some extent, be limited by the size of your bathing area. If you have a narrow bathtub, some chairs will be too wide to fit within it. If your shower has glass doors, you'll also have a more limited space to place a seat.
For maximum safety and stability, think beyond the size of your tub itself. Consider a shower transfer bench that extends over the tub or outside the shower, providing a sturdy surface that won't tip and maximum comfort.
Weight Capacity
One of the most important factors to consider is the weight capacity of the shower chair. Make sure to choose a shower seat that can support the weight of the user. Most shower chairs have a weight capacity of 250-300 pounds, but some can support up to 500 pounds. Be sure to adhere to those requirements to keep yourself or your aging loved one safe and secure. If you are heavyset, shop for a bariatric shower chair that can accommodate your weight — there are many options to choose from. 
Transfers and User Strength
"Transfer" refers to walking, hopping, sliding, being lifted, or otherwise moving from one place to another. Transfers are essential in life with a disability, but they present potential safety hazards. The safest and best type of transfer depends on your strength, balance, flexibility, and whether or not a family member or caregiver can assist you.
Choosing the right bath equipment can help you avoid falls during transfers. For example, if you have difficulty standing up, you could use a shower seat with armrests you can push down on for balance — but you must ensure it is stable and strong. 
Portability
If you travel often, you know that many hotels don't provide chairs for in the shower, or they buy the cheapest possible shower chair model to save money and compromise guest safety. Therefore, you may want to bring a portable shower chair with you when traveling with a disability. You'll have to be careful when searching for a folding shower chair to make sure it is stable and safe, but we've included some great options on this list.
Shower Chair Size and Design
In general, a larger shower chair will provide increased safety and stability. That's why I recommend buying the largest shower seat or bench that will fit in your shower or tub — and even one that extends beyond it if possible. I especially recommend using a long transfer bench if you have paralysis, spasticity, and/or balance issues.
I also highly recommend only using a shower chair with a back, unless it is wall-mounted, in which case you can use the wall for balance. 
Padded or not padded is a personal choice, but I strongly prefer padded! It's also safer if you have pressure sores (bed sores) or are at risk for them.
Why Some Shower Chairs Can Be Dangerous
Some of the most popular, bestselling shower chairs are also the least safe. There are two primary reasons for this:
Cost: Many cheap shower seats are poorly made. You don't have to spend a fortune, but remember that you are trusting your health and perhaps even your life to this product.
Size: Bigger is almost always better, safer, and more comfortable. But when someone is getting used to the idea of needing bathroom aids, they may decide to buy the smallest folding bench they can find, prioritizing unobtrusiveness over safety.
Don't Buy These Unsafe Shower Chairs
The following are some shower chair types you should generally avoid:
Shower stools and backless chairs: UNLESS they are mounted to the wall. 
Small shower chairs and round stools: If large portions of your rear end hang off the sides, it's probably too small. 
A bathtub bench without legs: Bathtub benches should always have legs that touch the tub floor OR metal support braces underneath if they are wall-mounted. Do not rely solely on the edges of your tub to hold a bench in place.
Best Shower Chairs: Top Picks for Safety and Comfort in 2023
I have carefully researched and compiled a list of the best shower chairs available on the market that will provide you with excellent support, durability, and comfort for your bathroom needs. These chairs will enhance your bathing experience with added safety and confidence, making daily routines more manageable if you have mobility challenges. There are many good places to shop for shower chairs online — I've linked to a few of them below.
Best Shower Chair Overall: Platinum Health UltraCommode

The Platinum Health UltraCommode offers exceptional comfort and portability, making it our top choice if you need a reliable shower chair that can go anywhere.
The Platinum Health UltraCommode is a game-changer and my #1 overall pick for the best shower chair for sale today. It is both a commode (toilet chair) and a shower seat, making it multifunctional and perfect for small spaces and homes with limited accessibility.
The Platinum Health UltraCommode has a weight capacity of 300 pounds. The soft, padded, and warm seat base, backrest, and armrests provide exceptional comfort.  Made from commercial-grade PU foam, the seat does not absorb water, facilitates sliding, and is easy to clean and disinfect. The medical-grade rust-free aluminum frame ensures safety and long-term reliability.
The UltraCommode features large, padded armrests that offer balance and stability but also flip up out of the way, so it can accommodate both sit-to-stand and side transfers. 
On top of all those features, the Platinum Health UltraCommode folds, so you can take it with you for comfortable toileting and showering when traveling.
I recommend this shower/commode chair for older adults and people with disabilities of all ages. I would even recommend it as a camping toilet for able-bodied people. Unlike many travel shower chairs, it does not compromise on stability; in fact, it's the most stable compact shower chair on this list. 
There are only two small downsides to the Platinum Health UltraCommode. One, it's a bit more expensive compared to bare-bones shower chairs and commodes — but it also has more features. And two, although it is easy to transport, it is slightly heavier than some ultra-lightweight travel shower chairs due to the padding and metal commode bucket holder.
I use this shower chair for traveling and camping, and feel it is more than worth the price. It is comfortable, sturdy, and versatile. I highly recommend it!
Best Budget Shower Chair: Medline
Medline Shower Chair Bath Bench With Back, Supports up To 300 Lb, Grey
as of October 2, 2023 3:11 PM
Medline Shower Chair Seat with Padded Armrests and Back Heavy Duty Shower Chair for Bathtub Slip Resistant Shower Seat with Adjustable Height Shower Chair for Inside Shower with 350 lb Capacity
3 new from $41.93
1 used from $40.30
Free shipping
as of October 2, 2023 3:11 PM
Medline makes a low-cost shower chair that doesn't scrimp when it comes to safety. The slip-resistant feet and adjustable height make it safe and accessible for a wide variety of elderly adults and disabled people.
As this is a budget shower chair, the armrests can't be moved or lifted, but you can choose between a model with or without armrests. The version without armrests can support up to 300 pounds, and the model with armrests has a 350-pound weight capacity.
There are many positives about this shower chair. It's easy to assemble and fits most tubs and showers. It's made of lightweight aluminum and light yet sturdy plastic, so it's easy to move out of the bathing area when not needed.
With that said, as with all things, you get what you pay for to some extent. While this chair is safe, it's only moderately comfortable. The seat and back are plastic, with no padding, so if you like to take long showers or have any issues with pressure sores, it's not the best option. Although it's lightweight, it doesn't fold, so if non-disabled people use the shower often, it may be in the way.
Overall, I recommend the Medline shower chair if you can't afford anything better. It will do the job and keep you safe, and for some people, that's good enough. 
More Low-Cost Shower Chairs
Shop for more high-quality shower chairs under $100 below:
Best Budget Bariatric Shower Chair: Probasics

The Probasics Bariatric Shower Chair is indeed basic, but delivers safety and security for larger people up to 500 pounds for less than $100.
If you're a larger person, you may have noticed that bariatric products are often ridiculously expensive. Luckily, the Probasics Bariatric Shower Chair has a high weight limit but a low price.
This bariatric shower seat has many helpful features. It has a weight capacity of 500 pounds, and it's reinforced with a cross-brace, so you don't need to worry about it sagging or breaking. It doesn't have armrests, which means it can accommodate wide hips. And it's relatively compact, so it will fit in most bathtubs and small showers.
Cheap bariatric shower chairs have the same limitations as other discount shower chairs — a relative lack of comfort. We found a couple that are slightly padded and may be a bit better.
More Low-Cost Bariatric Shower Chairs
If the bariatric shower chair above isn't right for you, here are more shopping options under $100:
Best Padded Shower or Bathtub Chair: Lumex
Lumex 2-in-1 Tub Transfer Bench & Shower Chair, Padded Seat & Backrest, Adjustable Height, 7955KD-1
3 new from $144.10
Free shipping
as of October 2, 2023 3:11 PM
The Lumex 2-in-1 Padded Tub Transfer Bench is versatile and can be used over a bathtub, in a roll-in shower, or in a regular shower to help you get over the step. It is thickly padded and extremely comfortable, so if you love a long shower like I do, it's the perfect choice. It has a 300-pound weight capacity and is adjustable to fit over most bathtubs. 
I have a Lumex padded bath chair that is over 30 years old. It's still sturdy and looks great. It is by far the most stable shower bench I have ever used. It never tipped or rocked when I had muscle spasms or transferred onto it from my wheelchair. The only reason I don't use it regularly now is because I have a wet room and can shower on the toilet.
Note that this is a large transfer bench and does not fold, so it's not good for traveling — but ideal to use at home. It only weighs 12 pounds, so it can be easily moved when not needed — but it's so comfy, your able-bodied family members will want to use it too! 
More Shower and Bathtub Transfer Benches
Here are a few more options for plastic and padded transfer benches, including a bariatric bath bench.
$104.60
11 new from $104.60
as of October 2, 2023 3:11 PM
$119.79
2 new from $119.79
as of October 2, 2023 3:11 PM
$145.32
4 new from $135.79
as of October 2, 2023 3:11 PM
$193.79
2 new from $193.79
as of October 2, 2023 3:11 PM
Best Sliding Bath Chair: Carousel
Carousel Sliding Shower Chair Tub Transfer Bench with Swivel Seat, Premium Padded Bath, with Pivoting Arms, Adjustable Space Saving Design for Tubs, Inside Shower, for Handicap & Seniors, Blue
as of October 2, 2023 3:11 PM
Carousel Sliding Shower Chair Tub Transfer Bench with Swivel Seat, Premium Padded Bath, with Pivoting Arms, Adjustable Space Saving Design for Tubs, Inside Shower, for Handicap & Seniors, Blue
2 new from $447.00
Free shipping
as of October 2, 2023 3:11 PM
HydroGlyde Sliding Bath Bench with Cutout Seat and Extra Long Travel, Perfect for tub to Toilet transfers.
as of October 2, 2023 3:11 PM
The Carousel Sliding Shower Chair is a top-notch option for those with significant mobility limitations who have difficulty transferring into the tub or shower. It's especially helpful if you have a standard shower or bathtub that otherwise wouldn't be accessible.
The Carousel's seat is on a track so you or a caregiver can easily slide you into the bathing area. If the standard length is too short, track extensions are available.
The weight-bearing arms on this bath chair provide added safety and support while transferring in and out of the chair. The seat, back, and armrests are padded to provide a warm and slip-resistant experience. The seat is comfortable and safer for people with a history of pressure sores.
The bath bench comes in a few different models, including one with swing-back armrests that has a 300-pound weight capacity, and a version with a swivel seat that can support users up to 600 pounds.
Due to its functionality, the Carousel Bath Bench is larger than devices that only sit within the bathing area itself, so it takes up more space in your bathroom. It doesn't fold, so it's not good for traveling, and it would be fairly awkward to lift and move it often. Unless you have a very large bathroom, it will have to stay in your tub or shower at all times.
I have used this bath seat when I am staying somewhere that has a bathtub, and due to my mobility limitations, it is the only way I can bathe safely when using a tub. I highly recommend it for anyone who does not have a roll-in shower or the ability to transfer directly into the bathing area.
The Carousel Sliding Shower Chair is on the more expensive side, but staying clean is priceless. If you are struggling to bathe independently or with assistance, it's worth every penny.
Best Wall-Mounted Shower Bench: SeaChrome
Seachrome Lift-Assist Shower Bench, ADA, 24" x 15", Padded White Naugahyde
2 new from $336.24
Free shipping
as of October 2, 2023 3:11 PM
The safest shower chair will always be one that is attached to the wall — provided that it is properly installed. If you're building accessible apartments or hotel rooms, I highly recommend installing wall-mounted shower benches. If you own your home, you can do the same.
When shopping for a safe shower bench, always choose one that has either a metal support bracket or legs. The right wall-mounted shower bench can support a tremendous amount of weight. My #1 pick featured above has a 1000-pound weight capacity. 
The Seachrome Lift-Assist is designed to be easy to fold up against the wall when not in use, requiring only 5 pounds of force to lift. This makes it ideal for households where some members need a bath bench and some do not.
It is available in a variety of sizes to suit the dimensions of different showers, and with a straight or L-shaped bench. You can choose between padded for maximum comfort or slatted for drainage. 
The Seachrome Lift-Assist Shower Bench proves that medical products can look good. This bath bench makes your home fashionable without even a hint of that depressing hospital style that pervades the design of many similar devices. 
As a disabled person who travels a lot, I am always happy to see a wall-mounted shower chair in a hotel room, because I know I can shower in comfort and safety. They work for a wide range of people and are always more steady and supportive than whatever cheap shower chair a hotel might have on hand. 
More Wall-Mounted Shower Chairs
Seachrome makes several models of shower bench so you can choose the right design for your home and needs. Here are a few more of my favorites:
$336.24
2 new from $336.24
as of October 2, 2023 3:11 PM
$473.07
as of October 2, 2023 3:11 PM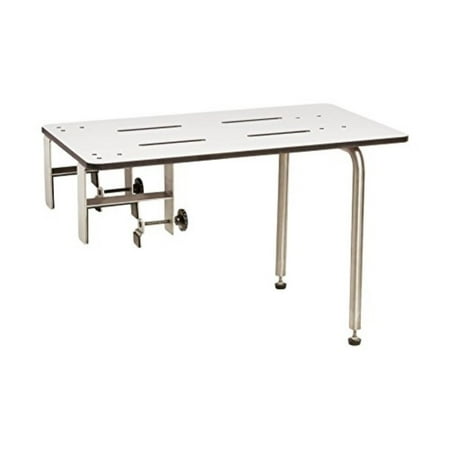 Best Bathtub Lift: BellaVita

The Bellavita is the lightest bath lift and the deepest bathtub lift so you can actually be fully immersed in the tub. It also features a reclining backrest and floating hand controls for comfort and safety.
I have long been skeptical about bathtub lifts. What is the point of only being lowered halfway into the tub? Might as well just shower. But the Bellavita Bath Lift lowers you almost to the bottom of the tub so you can soothe your sore joints and enjoy a bubble bath. 
This bathtub chair has side flaps that fold out to bridge the gap between the chair and the tub edge so you can transfer safely. However, they don't extend much beyond the tub, so you might still need a sliding board if you're doing a side transfer from a wheelchair. It has a 300-pound weight capacity. It has a recline function so you can experience a long, luxurious soak with a fizzy bath bomb. 
The Bellavita Bathtub Lift is fairly average in price as tub lifts go. While it's certainly more expensive than a budget shower chair, it's comparable in price to higher-end ones.
Best Shower Wheelchair: Shower Buddy
Showerbuddy 100% Aluminum Folding Travel Shower Chair | No Tools Required | Optional Bag not Included | Use as Commode or Wheelchair | Flip Footrests & Removable | Perfect for Travel Use
as of October 2, 2023 3:11 PM
The Shower Buddy is a high-quality wheeled chair designed for caregivers of seniors and people with disabilities who cannot shower independently. It offers ease of use, durability, reliable customer support, and a variety of options to choose from depending on your bathroom configuration.
The travel version of their shower chair is multi-functional and can serve as a commode, over-toilet chair, and shower chair. It is lightweight yet stable, and well-made. If you need a bathing device with these features, it gives you good value for the money. 
With that said, there are some notable limitations and drawbacks that you should be aware of so you can determine if this is the right product for yourself or an aging loved one. First, the wheels are small, so the bather cannot push themselves. Second, toilet sizes vary, so if you want to use it over the bowl, measure before ordering to be sure it will fit. Third, the arms on this version don't lift up. If you want swing-away armrests, you have to pay almost $500 more for the upgraded version. WTF?! Their version with wheels that let the bathing individual self-propel is also extremely costly.
The travel or standard chair will only work if you have a roll-in shower or wet room bathing area. You can buy a version that will allow the seat to connect to rails and slide into the tub, but OMG, it is ridiculously expensive! You could remodel your bathroom to be accessible for that price. 
Overall, the ShowerBuddy travel version is a great choice for caregivers who need a commode chair that works with a roll-in shower. However, the pricing for their other products is absurd. if you need tub access, one of the bathtub chairs on our list would be a better, more affordable choice.
Recommend a Safe Shower Chair
Are you a person with a disability or a caregiver who has found a safe shower chair you love? Share your experiences with our community in the comments.
Founder and Editor-in-Chief of The Ability Toolbox. I received my BA in English from Stanford University and MA in Clinical Psychology from Antioch University Los Angeles, and have worked in entertainment and health media for over 20 years. I also blog about traveling with a disability. As a wheelchair user with cerebral palsy, I am deeply committed to amplifying the voices of the disability community through writing and advocacy.