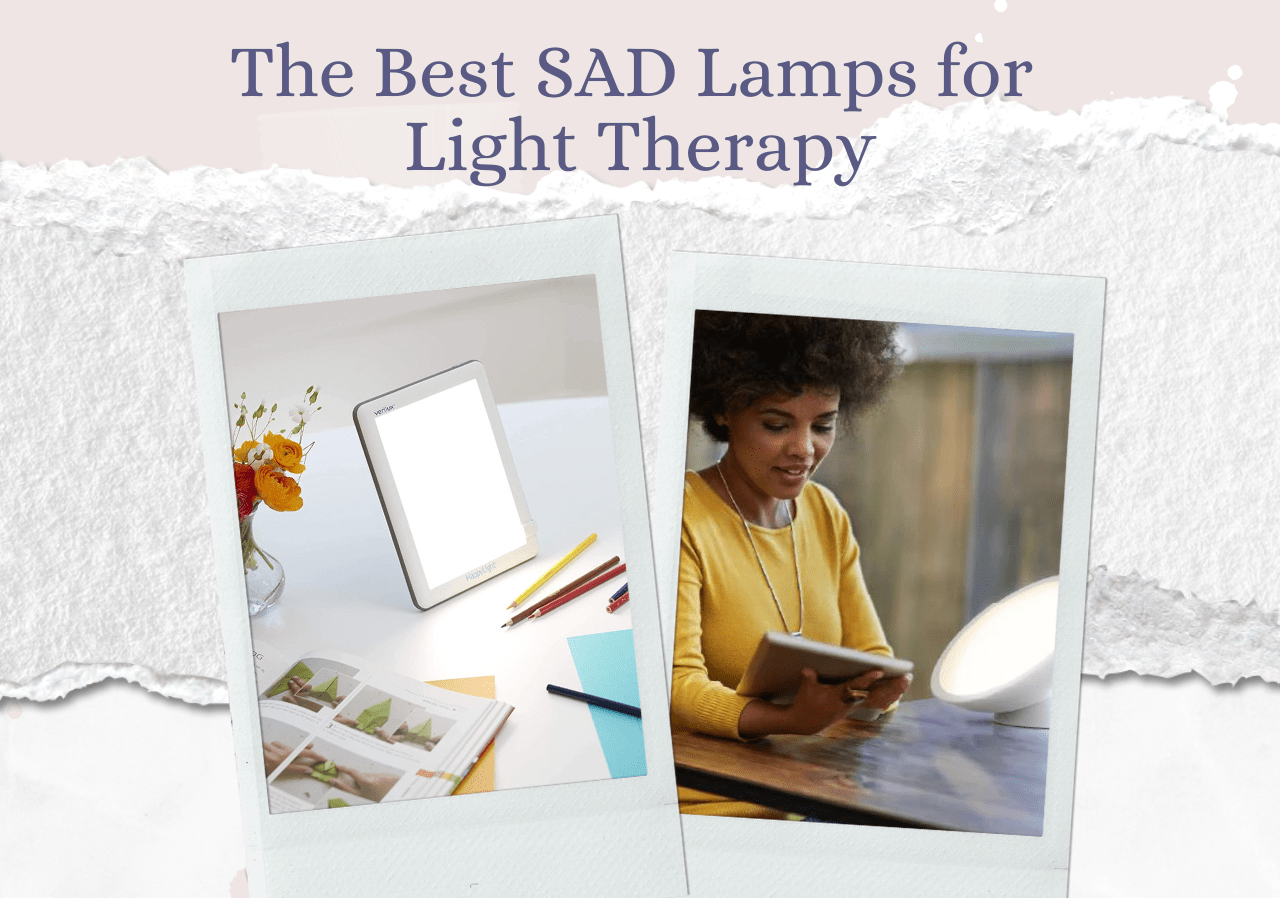 SAD lamps can help people with seasonal affective disorder, also known as seasonal depression, cope with winter. These light therapy devices simulate natural sunlight, improving our circadian rhythms that regulate energy, mood, and sleep. In this buying guide, you'll learn the facts about seasonal affective disorder, why light therapy works, and how to choose the SAD lamp that is right for you.
SAD Lamps at a Glance 
Just want to shop? Here are our top 3 best SAD lamps.
Best Overall: Verilux HappyLight Lucent
Best Budget-Friendly: Jolywell Light Therapy Lamp
Best Sunrise Alarm Clock: Philips SmartSleep
Understanding Seasonal Depression
What is seasonal affective disorder?
Seasonal affective disorder (SAD), also known as major depressive disorder with seasonal features, is a type of depression that occurs at a specific time of year, usually in the fall or winter.
What are the symptoms of seasonal affective disorder?
The symptoms of seasonal affective disorder are similar to those of other types of depression, and may include:
Feelings of sadness, anxiety, or emptiness
Loss of interest in activities you once enjoyed
Irritability or agitation
Fatigue and decreased energy levels
Changes in appetite or weight
Sleeping too much or having difficulty sleeping
Difficulty concentrating or making decisions
Feelings of hopelessness
How common is seasonal affective disorder?
MDD with seasonal features aka seasonal depression affects about 3 percent of the population. Women are more likely than men to experience SAD, and it most commonly begins when adults are in their 20s or 30s. Millions more people experience "winter blues," a subclinical level of depression that can still interfere with functioning and well-being.
What causes seasonal affective disorder?
The exact cause of SAD is unknown, but it is thought to be related to a combination of factors, including:
Changes in sunlight exposure: The reduced level of sunlight in the fall and winter months may trigger SAD in some people. This is because sunlight helps the body produce vitamin D, which is linked to mood.
Changes in hormones: The decrease in sunlight may also disrupt the body's natural circadian rhythm, or sleep-wake cycle. This can lead to changes in the levels of certain hormones, such as melatonin and serotonin, which are thought to play a role in SAD.
Genetics: SAD may be more common in people who have a family history of depression or other mood disorders.
What are the treatments for seasonal affective disorder?
The most common treatment for SAD is light therapy, also known as phototherapy, which involves exposure to artificial sunlight using a special light box. Light therapy is thought to work by resetting the body's natural circadian rhythm and increasing the levels of serotonin, a hormone that is linked to mood.
Other treatments for SAD may include antidepressants, cognitive-behavioral therapy, and lifestyle changes.
If you think you may be experiencing seasonal affective disorder, it is important to see a mental health professional for an evaluation. With proper treatment, SAD is a manageable condition.
The Benefits of SAD Lamps
Does light therapy using a SAD lamp work as a seasonal affective disorder treatment?
Studies have found that light therapy is an effective treatment for seasonal affective disorder (SAD). The review found that light therapy significantly reduced the symptoms of SAD, including depression, anxiety, and fatigue.
If you are considering light therapy as a treatment for SAD, it is important to talk to your doctor or mental health professional first. They can help you determine if light therapy is right for you and make sure you are using the correct dose of light.
Who should not use SAD lamps for light therapy?
There are a few groups of people who may not safely be able to use light therapy as a treatment for seasonal affective disorder. These include:
People with bipolar disorder: Light therapy can trigger manic episodes in people with bipolar disorder. However, it can also help reduce depression in people with bipolar disorder, so consult your doctor to discuss the risks and benefits for your individual situation. 
People with light-sensitive disorders: Light therapy can potentially worsen conditions such as migraine, lupus, and porphyria. Discuss photosensitivity with your doctor before considering light therapy.
People taking certain medications: Some medications, such as fluoxetine (Prozac), and certain antibiotics can make the skin more sensitive to light. Light therapy may cause rashes or other skin reactions.
Do not start light therapy without clearance from a doctor if you have any of the above conditions. 
What are the risks of using SAD lamps?
Light therapy is a safe and non-invasive treatment for SAD. The risks of using a SAD lamp for light therapy are generally low. The most common side effects are eye strain and headache. However, these side effects are usually mild and go away after a few days of treatment.
Avoid looking directly at the light from the SAD lamp. Doing so can damage your eyes.
Always choose a therapy lamp that is UV-free. Tanning lamps and UV lamps are not the same as light therapy and can damage your skin.
If you are using a SAD lamp for light therapy, it is important to follow the instructions carefully and consult with your doctor or mental health professional if you have any questions.
How do I choose the right SAD lamp for my needs?
When choosing a SAD lamp, there are some things you should keep in mind.
First, make sure the lamp emits full-spectrum light. This means that the light from the lamp will mimic natural sunlight as closely as possible.
Second, choose a lamp that emits at least 2,500 lux of light. This is the minimum level of light needed for light therapy to be effective. However, most high-quality therapy lamps emit 10,000 lux for maximum effectiveness within a shorter time frame. 10,000 lux therapy lights are generally effective with 30 to 60 minutes of exposure per day.  
Third, consider buying a SAD lamp with adjustable brightness settings. That way, if 10,000 lux is too bright for you or causes eye irritation, you can dim it and use it for a longer time period.
And fourth, consider when and where you'll be using the light. It's best to do light therapy in the morning to mimic natural sunlight and give you a mood boost to help you get through the day.
SAD Lamps We Recommend for Light Therapy
These are the best SAD lamps that have been recommended by our community of people with mental health conditions.
This article contains affiliate links. As an Amazon associate, we earn from qualifying purchases.
Popular, Highly-Rated SAD Lamps
These lamps are among the most popular and well-reviewed light therapy devices on the market, so we're listing them first. 
Verilux Happy Light
Verilux is the most popular brand of therapy lamp for a reason, and this particular model is our community's favorite. It strikes a good balance between being large enough to be effective and compact enough to easily move between rooms or spaces. If you are not sure which light therapy device to buy, choose this one and you'll have no regrets.
Verilux Combination Light Therapy and Task Lamp
If you're looking for a multi-functional lamp that can provide both light therapy and full spectrum light for tasks, this desk lamp will be perfect for your needs. The gooseneck is adjustable so you can place it at any angle. It even has a USB charging port for your phone.
Carex SAD Lamp
This lamp is pretty big and it's not the most attractive. So why is it in our top four? Because it works really well. If you struggle with severe seasonal affective disorder and need a highly-effective sun lamp to help you get through the winter, you'll be very happy with this purchase.
Verilux Wireless Rechargeable Portable Light Therapy Lamp
This is the best cordless LED light therapy lamp you can buy to say bye to the winter blues. Its biggest advantage is that you can easily place it anywhere in your home, and it's nice to look at as well. It comes with adjustable brightness and color settings so you can make it work well for your needs.
Compact SAD Lamps for Travel
These SAD lamps are extremely thin and portable so you can slip one into your bag and always have it available when you're on the go.
Ultra-Thin SAD Lamps
These sunlight simulation lights are ultra-thin and ultra-cheap. If you want an affordable SAD therapy lamp for winter travel or if you're just testing one out to see if it works for you, either of these lamps would be a great choice.
Stylish Designer Light Therapy SAD Lamps
If form matters to you just as much as function, these attractive SAD therapy lamps will elevate your mood and your decor.
Moon Therapy SAD Lamp
This mood light resembles the moon's rocky surface and comes with a handy remote so you can adjust the brightness and color temperature to meet your needs.
Elegant Light Therapy Table Lamp
If you like abstract modern design, this shapely lamp will enhance your home and cheer you up on dark winter days at the same time.
Art Deco Style Mood-Boosting Light
Circadian Optics is another fabulous brand of light therapy lamps we highly recommend to beat the winter blues. They work well and are beautiful. This light would look outstanding in a bungalow or modern-style home.
Geometric Table Lamp for Seasonal Depression
This high-quality therapy lamp will blend in with upscale modern homes and is built to last.
Light Therapy Floor Lamps
There's really only one good floor lamp for light therapy and it's this one. It's the larger cousin to the desk lamp we featured above and also has an adjustable gooseneck and multiple brightness settings.
Sunrise Alarm Clocks for Light Therapy 
If you are looking for an easy and effective way to get light therapy in the morning, a sunrise alarm clock may be a good option for you. Sunrise alarm clocks emit gradually increasing levels of light, mimicking the natural progression of the sun. This can help you wake up feeling more refreshed and alert.
Philips Sunrise Alarm Clock
This is not the cheapest light on our list by any means, but when it comes to sunrise alarm clocks, you get what you pay for. Philips is the top brand in smart lights for a reason; their devices work reliably and are easy to set up. I bought a cheaper sunrise lamp a few years ago and could not figure out how to program it. I switched to this one and have been extremely happy. It was worth the cost.
Smart Sleep Clock and Wake-Up Light
This affordable sunrise lamp gets mixed reviews for its app, but the device itself works great once you get it programmed. If you're on a budget and can take a bit of time to figure out the app, it's well worth the purchase.
Sunrise Clock with Phone Charger
I like the idea of being able to charge a phone using this morning light therapy device rather than needing to have yet another item crowding my nightstand. The elegant design of this sun lamp will blend in well with upscale decor, yet it's moderately priced, especially considering its robust features.
Do you have favorite SAD lamps for light therapy?
Let us know in the comments.