Injury and sickness happen, and it's a normal part of life. However, handling these setbacks makes all the difference in how you can get back up. If you exercise 3 to 6 times a week, a shoulder injury doesn't mean you should have to stop your workout entirely. 
After any shoulder problem, getting movement and strength back is essential. It supports tissue healing and will help you get moving like usual again.
In this post, we prepared recommendations for staying fit and active during a shoulder injury recovery. Depending on the case of your injury, it is recommended to have it checked by a doctor first. Experts in this field will help you recover faster. Some professionals specialize in shoulder injury, like Dallas shoulder surgeons.
Tips for Staying Active and Fit During a Shoulder Injury Recovery
Condition Your Mindset
Begin your healing journey by conditioning your mind. Along the way, you can get frustrated with your recuperation progress. However, with a strong mindset, you can do anything. You can work on your mental fitness with meditation. Remember that your physical health is as important as your mental health.
Ask for the Help of a Professional
Before performing shoulder workouts, you must correct existing mobility issues. It will help you support the muscles that help move and stabilize your shoulder. We recommend you work with a shoulder surgeon or physical therapist who can guide you through the correct exercises or movements. No matter who's helping you heal, you need to focus on mobility.
Don't Jump Back in All at Once
When you're returning from a long break, especially when you're still in recovery, remember that your body is not yet as capable as before. Listen carefully to what your body says. 
It is best to start with light exercises for your upper body, specifically on your shoulder. 
Continuing traditional cardio exercise is possible as the lower body can fully exercise. Some options with minimal shoulder movement are walking, stationary or hands-free cycling, stair climbing, and other exercise machines. You can modify your activities' intensity, length, and action. 
Gradually Build Your Strength
In addition to cardio workouts, strength training routines will help you maintain power in the non-injured muscles and joints as you progress. Consider doing circuit routines 4 to 5 times a week.
Remember to warm up thoroughly before you start exercising. You can perform leg presses, squats, and other workouts that won't strain your shoulders. You must stop if you feel any pain or discomfort. Try to avoid that movement while you heal.
Keep the Momentum
As your healing progresses, assuming you can move your shoulders with less pain, you can start with light exercises for the shoulders. It is best to use your body weight and skip the dumbbells. You can do wall sitting and other bodyweight exercises. Again, consider how your shoulder feels and how much movement you can execute safely without pain.
Once you can move through a fit range of motion comfortably, add light weights and perform shoulder exercises, such as deadlifts. Your physical therapist may recommend other workouts as you improve shoulder mobility.
Focus on a Balanced Diet
Prioritizing your nutrition while healing will surprise you that making healthy food choices helps. Eating nutritious food enables you to recover faster and keeps your body in shape.
Depending on your injury, if you don't eat healthy while doing fewer movements, this will significantly affect your weight and body fat. While you can't do challenging workouts temporarily, ensuring you eat healthily is vital. It's necessary for your healing to eat well while you're sidelined, and it can help you avoid putting on extra weight while you are laid up.
Incorporate great foods that will help you recover from your shoulder injury, such as foods rich in vitamins C, A, and D. Protein-rich foods will also help you regain strength. 
Vitamin C supports the integrity of your muscles and tendons. Add citrus fruits to your diet, such as oranges, lemons, and berries, or veggies, like green leafy ones and broccoli. Vitamin A fights infections that will help speed up your healing. Eat carrots or winter squash. Vitamin D strengthens your bones and muscles. Consume sources like salmon and mushrooms.
Conclusion
Seek professional help during your healing, such as orthopedic doctors, shoulder surgeons, physical therapists, and other experts. It is highly recommended that experienced individuals guide you in this field. 
Work out and heal at your own pace. It won't help to rush anything; the only real goal is good health. If you wish to cut out physical activity temporarily, you can do mental health exercises. When you are ready, you can proceed with beginner or low-impact routines.
During your healing journey, it is essential to be honest with yourself. Always listen to what your body is saying. Avoiding things that may cause you additional pain or discomfort would be best. 
Images via Deposit Photos
Sensory swings are important tools to help children and adults with conditions such as autism and ADHD self-regulate and live their best lives. As an autistic adult, I've noticed that most experts talk about addressing the sensory needs of kids, but ignore the benefits of a sensory swing for adults who are neurodivergent. I have created this complete guide to sensory swings for children and adults, so you can choose the best items to help yourself or a loved one.
Skip to the Good Stuff
This article contains affiliate links, which means we may receive a commission at no additional cost to you. As an Amazon associate, we earn from qualifying purchases. 
Understanding Autism, ADHD, Neurodivergence, and Sensory Processing Differences
Neurodivergence is an umbrella term for a variety of conditions that affect the way people think, communicate, and experience the world. The two conditions most people think of first when it comes to neurodivergence are autism spectrum disorder and attention deficit hyperactivity disorder (ADHD), but sensory processing disorder can also be diagnosed in people who have other brain-based conditions. Many children and adults with disabilities such as dyspraxia, dyslexia, Down syndrome, and cerebral palsy struggle with sensory regulation. People with depression, bipolar disorder, PTSD, and anxiety can also have sensory processing differences. 
People with sensory processing disorder (with or without co-occurring conditions) typically have difficulties with hypersensitivity, hypersensitivity, and proprioception — the body's ability to sense itself and manage its position in space. People who are hypersensitive find certain sensory stimuli to be overwhelming or even painful. They are unusually sensitive to sounds, smells, textures, tastes, and/or lights. They often find crowds and loud busy places to be overwhelming. People who are hyposensitive may not notice pain, and may be sensory-seeking, enjoying rocking, fidgeting, tight clothing, weighted blankets, etc. Note that most neurodivergent people are some combination of both sensory-averse and sensory-seeking, but our needs and preferences vary significantly.
The Benefits of Sensory Swings for Autism, ADHD, and Neurodivergence
Sensory swings create a safe, calming environment to help neurodivergent children and adults regulate their sensory systems. A sensory swing can help neurodivergent children and adults enjoy safe sensory-seeking behaviors, cope with sensory overload, and regulate their vestibular and proprioceptive systems.
How Sensory Swings Help with Hypo- and Hypersensitivity
Children and adults who are sensory-seeking use repetitive movement to self-regulate. People who are hypersensitive also use repetitive movement to cope with stressful sensory stimuli and prevent or reduce sensory overload. This is known as stimming and it's a healthy, necessary part of being on the autism spectrum, having ADHD, and/or being otherwise neurodivergent. There are many ways to stim — hand flapping, hair twisting, and using fidget toys are a few you may be familiar with — and the floating, rocking, and spinning of sensory swings are excellent stims for many people.
How Sensory Swings Help with Proprioception 
Children and adults with proprioception dysfunction may be clumsy and struggle to understand where their body is in space. Sensory swings can be a key tool to use in sensory integration therapy, which has proven benefits for children with autism and sensory processing disorder. They can help people of all ages get in touch with their bodies and develop spatial skills.
Last update was on: March 30, 2023 9:28 PM
What to Consider When Shopping for Sensory Swings
When buying a sensory swing for yourself or a loved one who has autism, ADHD, and/or sensory processing disorder, here are some key factors to consider and things to look for.
Sensory Swing Safety
Here are some tips to make sure your sensory swing is safe:
Check the weight limit before you buy. Every swing should list a maximum user weight. Make sure you/your loved one is under the limit. Our list includes a swing that can support up to 800 pounds, so you should be able to find one or more safe options.
Your sensory swing is only as safe as its mounting hardware. Most swings and hammocks come with appropriate hardware, but if you must replace it or use something different, always check weight limits for hooks and use carabiners rated for climbing (see list below). 
Your sensory swing is also only as safe as the ceiling, porch, or tree branch from which it hangs. Mounting the hardware securely to your ceiling is more complicated than hanging hooks for lamps or plants. Although a sensory swing can be a disability accommodation under the Fair Housing Act, if you rent, mounting the hardware to your ceiling may involve safety risks to you or an upstairs tenant, so request permission first. You may need to have a professional do the installation. Alternatively, you can purchase a swing stand and avoid the potential hazards of attaching your swing to a ceiling or tree.
If the sensory swing will be used by a child, or by an adult who has significant intellectual disabilities, check to make sure the swing has no loose pieces that could fall off and become a choking hazard, ropes that could wrap around a neck, holes where someone's arm or leg can get stuck, etc. It's best to supervise their use of the swing at all times.
Check the swing before each use to make sure there is no fraying of the ropes and that the swing is securely attached at all mounting points.
Sensory Swing Features
There are many kinds of sensory swings and they each provide different sensations and forms of movement. Consider what you or your loved one may prefer, for example:
Do you like gentle rocking, swaying, or faster movements?
Do you want to swing low to the ground or high in the air?
What about spinning? Some neurodivergent people enjoy spinning, but it can also make us dizzy just like anyone else.
Sensory Swings for Autism and ADHD We Recommend
In this sensory swings guide, I've included a variety of choices and described the different experiences and sensations they provide. Whether you prefer gentle motion, flying high in the air, or something in between, I hope you'll find what you need on this list!
Stretchy Sensory Swings
When most people think of sensory swings, this is what they imagine. The soft, stretchy fabric envelops neurodivergent children and adults, providing the deep pressure stimulation we need to regulate our senses. These swings are usable by people up to 220 pounds or so. Always check the weight limit of a specific model before you buy. 
Pod Sensory Swings
When you or your child sits in this style of swing, they'll feel comfy like a pea in a pod. Most pod swings have a fairly low weight capacity, but some will support adults. Here are a few of the stronger pod swings available.
Acrobat Swing
Kids can sit on or nestle into this versatile acrobat swing, designed based on Montessori educational principles.
Platform Sensory Swings for Adults and Families
With a 700-800 pound capacity, a large platform sensory swing can hold adults, kids, and maybe even your whole neurodiverse family. They are rated for indoor or outdoor use, so you can stim anywhere from under a tree on a summer day to the middle of your living room while watching the snow fall.
Hammock Chair for Adults and Teens
A hammock chair makes a great stress relief space for adults and teens with autism or ADHD who have outgrown other sensory swings. This swing style is best for older kids and adults as the ropes could be a tangling hazard for young children. I hang a hammock chair from my porch ceiling during the warm weather months and sit in it to decompress after work. It's also the perfect spot to lounge with a glass of lemonade and a book on weekends. I love the gothy black design — it makes me happy! (Yes, some people call me Wednesday.)
Hanging Egg Chair
Sometimes I find stretchy fabric swings too constricting, and my best friend who has anxiety says they can trigger her claustrophobia. If you're like us and prefer a firmer surface or more structured surroundings, you'll love a hanging egg chair. 
Chair Swing
A chair swing is similar to an egg chair in terms of firmness and stability. These high-end swings appeal to my boho and hippie sensibilities. They're ultra-cozy!
Hanging Tent
Hanging tents are a relaxing space to recover from anxiety, panic attacks, autism meltdowns, and shutdowns. I fill mine with pillows, a weighted blanket, and microwavable stuffed animals that I can heat up in the winter.
Porch Swing
The porch swing is a classic for a reason, and it's widely appreciated by both neurotypical and neurodivergent people. My best friend and I sit on the porch swing at her house and it's so relaxing. 
Chaise Lounge Swing
Most of the sensory swings on this list create a den-like environment in which to relax and recharge. A chaise lounge swing is open so you can enjoy the breeze and sunshine. 
Surfing Swing
My 10-year-old nephew who has ADHD loves this surfing swing. I'm not coordinated enough to use it, but athletic neurodivergent children and teens can enjoy hours of stimming and get some exercise at the same time.
Sensory Swing Accessories
Most sensory swings come with all the pieces you need, but depending on your use case and housing situation, these accessories may be necessary or helpful.
Sensory Swing Stand
If your ceilings aren't strong enough to handle the weight, or your landlord won't allow you to drill into the ceiling, this stand will allow you to place your hanging sensory furniture anywhere. I use one of these stands for the hammock chair in my living room so I can move it around easily. 
Climbing-Rated Carabiners
Some sensory furniture that is otherwise high-quality may come with carabiners that won't stand up to heavy use. By using carabiners that are rated for mountain climbing, you can be sure that your swing is secure. This is especially important for multi-person hanging swings or if you're near the weight capacity. I like this carabiner set — they are strong but easy to use.
What's your favorite sensory swing that helps with your autism, ADHD, or other sensory processing differences? Let us know in the comments.
For many years, the autism puzzle piece has been one of the most widely used symbols to represent those on the spectrum. Despite its widespread use, however, many people in the autism community, especially autistic adults, have come out against this symbol. As an autistic adult, I have witnessed many debates, mostly online, about the puzzle piece. It's a complicated issue, but an important one to discuss. Read on to learn why the autism puzzle piece is bad, and to find out about the infinity symbol autistic people prefer and how you can use it instead.
Why the Autism Puzzle Piece Is a Bad Symbol
The autism puzzle piece symbol suggests that autistic people are "puzzles" – incomplete or broken individuals who need to be "fixed" or "put back together" in order to be accepted by society. While it's true that everyone needs support from time to time, this metaphor stigmatizes autistic people and can lead to feelings of isolation or exclusion.
The puzzle piece also implies that autistic individuals are not capable of making our own decisions without outside guidance or assistance to "solve" our "problems." This ignores the unique gifts and abilities of those on the spectrum, which makes it particularly offensive for many autistic people and their supporters alike.
Representing autism as a puzzle also frames it from a neurotypical point of view rather than an autistic point of view. To neurotypical people, autistic people are puzzles to solve. Our behavior is complicated and confusing to them. Well guess what, it works both ways! I often find neurotypical people puzzling. They don't say what they mean and they expect people to understand complicated unwritten rules without ever being taught. So if it were up to me, I would make the puzzle piece a symbol of neurotypical people, because it is like assembling a puzzle to figure out what they mean half the time!
The History of the Autism Puzzle Piece
The autism puzzle piece has an ableist and stigmatizing history. Warning, it's even worse than you think!
The first puzzle piece logo was designed for Britain's National Autistic Society in 1963 by Gerald Gasson, the parent of an autistic child. Here's the original version: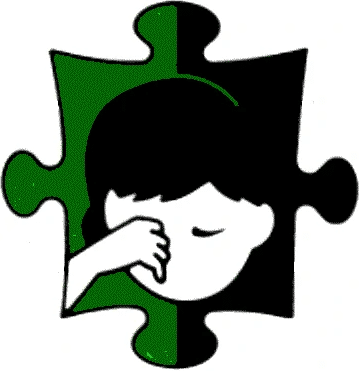 And here's how Helen Green Allison, one of the organization's founders, described the reasons for the design in 1997:
"The puzzle piece is so effective because it tells us something about autism: our children are handicapped by a puzzling condition; this isolates them from normal human contact and therefore they do not 'fit in'. The suggestion of a weeping child is a reminder that autistic people do indeed suffer from their handicap."
I don't know about you, but that went beyond throwing up a little in my mouth. I need a whole trash can. 
Thankfully, the National Autistic Society has evolved since then to promote autism acceptance and uses a gradient letter "a" as their logo with no puzzle pieces in sight. But sadly, the same cannot be said for some notable autism organizations in the United States, who continue to depict autism as tragic and exploit autistic people.
The Connection Between the Puzzle Piece and Autism Speaks
You can't separate the puzzle piece symbol from the most prominent and problematic organization that uses it — Autism Speaks. Autism Speaks is one of the most well-known organizations in the autism space, and is responsible for "Light It Up Blue" and other highly-publicized awareness events. However, many within the autism community have come out against the organization due to their focus on "curing" or eliminating autism and their long history of ableist and offensive depictions of autistic children and adults. In fact, many autistic people consider them to be a hate group.
At its core, Autism Speaks is focused on finding a "cure" for autism, a goal that was part of their mission statement for many years. They removed it after considerable public pressure, but they continue to fund and promote research that could be used to cure or eliminate autism, such as the SPARK for Autism program that analyzes the DNA of autistic people and their family members.
Most autistic people do not want to be cured — we want to be understood and included in society. And we want autism charities to raise funds for things we actually need, such as support services, training employers on how to empower workers on the spectrum, better educational opportunities, etc. 
We also want to be the ones running organizations that represent us. Autism Speaks claims to be "family-centered" and "led by those affected by autism" but most members of their board are neurotypical, and notable autistic advocates who have tried joining their board ultimately resigned in frustration.  
It's clear that Autism Speaks still has a long way to go when it comes to representing and honoring those living on the spectrum. Unless and until they truly change, many in the autism community will remain wary about voicing their support for the organization — and the puzzle piece that has become inextricably linked with their image.
Why Some Autistic People Like the Puzzle Piece (or Don't Care) and How to Respond
Some people believe that the jigsaw puzzle represents the complexity and diversity of autism. They say that puzzles are fun and learning to put them together is worthwhile. They say that like puzzle pieces, we each have our own unique way of fitting into the bigger picture of humanity. I can understand wanting to reclaim the puzzle piece since it's so ubiquitous. But given its history and continued usage by harmful organizations, I'm not sure that doing so is possible or worthwhile. 
Some autistic people and allies feel that we as a community have more important issues to deal with than the puzzle piece. I agree to an extent. When we're still fighting for basic rights such as housing, employment, and societal acceptance, it does sometimes feel trivial to argue about a symbol. But I realized that at its core, getting rid of the puzzle piece is about more than that. It's about self-determination and self-advocacy.
Who gets to decide how a group of people identifies and represents themselves? It should be the people with that identity. The community had and still has a problem with parents and neurotypical people trying to speak for autistic people. They chose the puzzle piece, not us, and it came to be associated with some bad organizations and bad people. So rejecting that symbol and choosing a different one is one way autistic people can take back our power.
Even if you believe there's nothing inherently offensive about the puzzle piece, when supposed allies fight against using the infinity symbol autistic people have chosen for ourselves, that says a lot about them, doesn't it?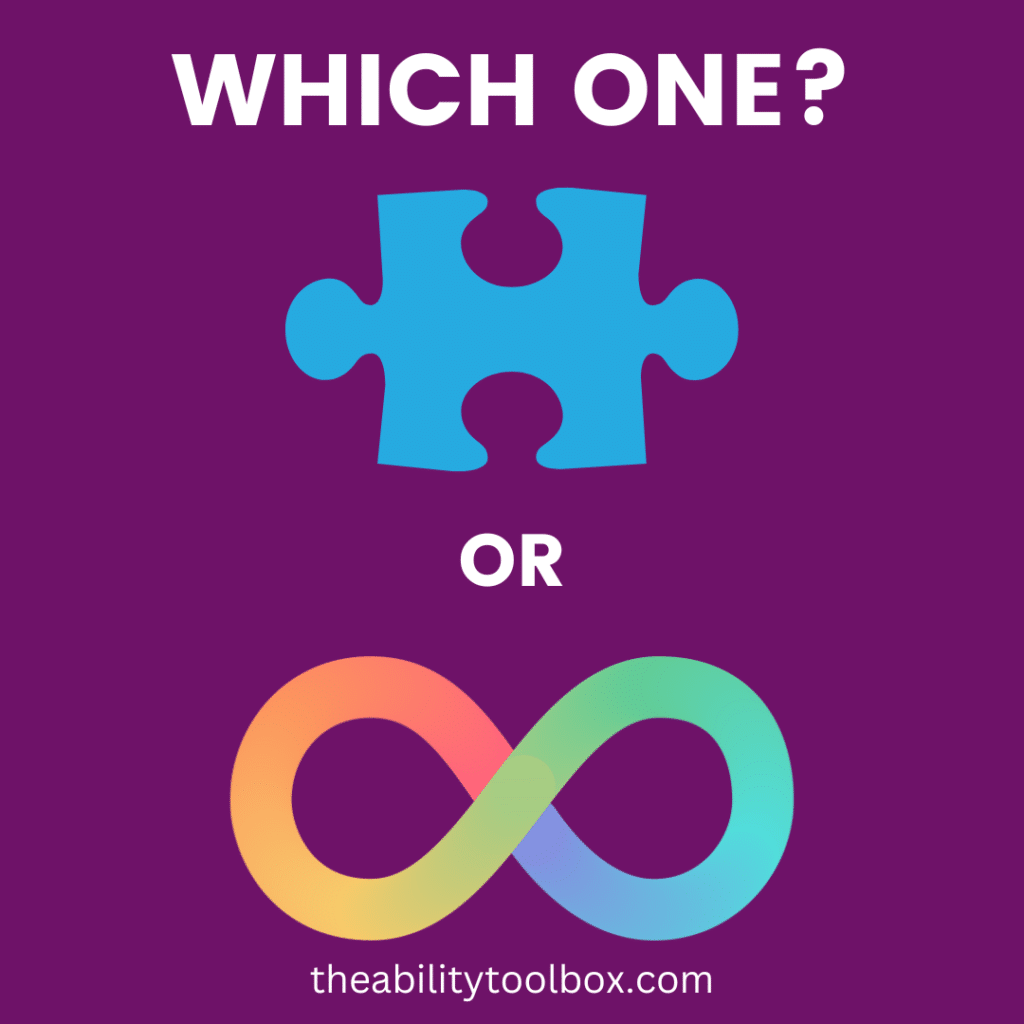 The Infinity Symbol: An Alternative to the Autism Puzzle Piece
The rainbow infinity symbol was created by autistic people in 2005 to represent all forms of neurodiversity. Although it's commonly used to represent autism, people with ADHD, sensory processing disorder, dyspraxia, and other unique ways of thinking can use it too. Since gold is Au on the periodic table of elements, the gold infinity symbol specifically represents autism. 
Let me explain a bit more about the infinity symbol and why it's a better representation of autism than the puzzle piece.
The infinity symbol helps to clarify the common but inaccurate depiction of the autism spectrum (and other types of neurodivergence) as a line. People imagine a gradient from so-called mildly to so-called severely autistic, but that's not how it works. Autism is much more complicated than that. A person can have no challenges in one area, mild difficulties in another, and severe issues in yet another  — and their needs can change from day to day or depending on the situation. Sure, there are people who generally need a lot more support than others, but you can't assume that just because somebody can speak, their life is easy and autism barely affects them. That is simply not the case.
To use myself as an example, I have pretty good social skills. I was bullied in school but I also made friends who are weird like me (guess what, we were all neurodivergent). I'm smart and can be talkative in some situations. People don't always guess that I'm autistic when they meet me. However, I have severe sensory issues. I can't go to loud places without wearing my noise-canceling headphones. Some places are so overwhelming that I just don't go, like amusement parks, unless it's a very slow day and I can take breaks. I can work, but only from home where it's quiet and I can manage my sensory needs. So you could try to say my autism is mild, but that doesn't really cover it.
The infinity symbol represents this better by showing that a person can be at any point on an infinite loop, and they can move to different places on that loop depending on the circumstances. For example, if I'm tired or sick, I struggle even more with sensory issues and I don't want to be around people. I don't have many meltdowns anymore except when I am stressed or sick, but when I have one, suddenly people "see" my autism (or think I'm having a mental breakdown).
My autism isn't puzzling. It's actually quite logical and predictable once people understand me. It's the world that is confusing and unpredictable.
Items Featuring the Neurodiversity Infinity Symbol 
You can show your support for autistic people during Autism Acceptance Month (and all year round) by wearing shirts, pins, etc. featuring the infinity symbol instead of the puzzle piece. This section contains affiliate links so you can support these neurodivergent-owned businesses and The Ability Toolbox!
Last update was on: March 12, 2023 10:22 PM
Looking for more? Check out Autism Acceptance Clothing and Autism Pins, Stickers, and Accessories
No matter what your personal views may be on the issue, it's important to recognize that the autism puzzle piece is ultimately a source of distress for many members of the autistic community. As such, it's crucial that we take steps towards finding alternative representations that more accurately reflect our understanding of life on the spectrum — ones that promote acceptance and celebrate difference instead of reinforcing stereotypes and antiquated mindsets.
What do you think about the autism puzzle piece?
Share your thoughts with our safe and supportive neurodiversity community in the comments.
When someone in your social circle is autistic, you might notice that sometimes they behave differently than non-autistic people. Some of these things, such as noise sensitivity, are easy to understand and easy to accommodate, but not everything they do might make sense to you. This article will go over six autism behaviors you might notice in your autistic loved one, and will give tips on how to accommodate them.
1. Autistic people tend to say what they mean.
Where a non-autistic person might try to beat around the bush in order to spare someone's feelings, or in order to look good in the eyes of the other, an autistic person will most likely tell you exactly what they think. This can cause conflicts on both sides.
Because autistic people don't have a hidden agenda, they struggle to deal with people that do and tend to take things literally. This means that if you tell them that "everyone brings some food to the party, but you're not obligated to do so," while you actually want to say "it'd be nice if you'd bring some food," you shouldn't be surprised when they show up without food.
The other way around, you might be inclined to believe that your loved one also expects you to read between the lines, while chances are that they're not. So if an autistic person tells you "I thought you would help me, but it's fine," chances are that it's actually fine. They're not being passive-aggressive.
How to accommodate
First and foremost, try not to get upset or angry when this miscommunication happens. You're just working with two different communication styles, so conflicts will happen from time to time. Second, you can help by saying exactly what you mean, and by dropping the assumption that your loved one isn't saying what they actually mean. When in doubt, just ask to clarify. Asking is always better than assuming.
2. Autistic people may do things in a way that is highly specific or seemingly illogical or inefficient.
Autistic people are often accused of being stubborn for wanting to do things a certain way. In reality, this has very little to do with being stubborn and is instead linked to the way their brain works. Being autistic means your brain is wired differently, so what seems logical and efficient for non-autistic people, might be confusing and complicated for autistics.
This is why you might catch your loved one doing something in a way that to you seems like it's more work than needed. However, to them, this is the most efficient way of doing something, and therefore they might reject your suggestion on how to do it differently. Besides, it'll probably take them longer to understand the non-autistic way of doing something than it'll take them to complete the task in their own way.
How to accommodate
All roads lead to Rome, and unless the chosen method is a safety hazard, there's no reason not to let your autistic loved one just do things in a way that makes sense to them. It's not wrong, it's just different.
3. Autistic people can experience task overwhelm.
Aside from getting overwhelmed by sensory input, such as noises, textures, or smells, autistic people can also get overwhelmed by tasks, no matter how small and simple they seem. This isn't because they're overreacting, but because their brains sometimes struggle to process information properly, if they process it at all. This is known as executive dysfunction.
At the root of this overwhelm is usually either confusion or a loss of oversight. For example, doing the laundry can be very overwhelming because it has multiple components: the washing instructions for the clothes, the settings on the washing machine, and the kind and amount of detergent to use. While a non-autistic person might just guess what the best combination of the three is, an autistic person usually likes certainty, and so they want to do it right. This uncertainty can cause them to feel overwhelmed and that might lead to a meltdown.
How to accommodate
First, be understanding of the problem. To you, it may seem like they're overreacting, but to them, this is a very big and real problem. Second, help them figure out where the overwhelm comes from. If it's because they're confused about what to do, explain it to them or show them. If it's because there's no oversight, help them create oversight by splitting the task into steps. Lastly, if there are tasks your loved one has struggled with on multiple occasions, offer to do them for them instead. For example, if your friend gets overwhelmed whenever they have to order food, it might be more helpful to do it for them. With their consent, of course.
4. Autistic people often mask their neurodivergent traits and behaviors.
Masking is a term that's very well known in the autistic (and neurodivergent) community, but less so among neurotypicals. Masking essentially means pretending not to be autistic. Many autistic people are told they have to adapt to the neurotypical way of life, and they get therapy where they learn to hide their autistic behavior. This is why "you don't look autistic" is not the compliment you may think it is (it's the opposite, really). There's no way to "look" autistic, and many autistics are just very good at hiding their autistic traits.
But pretending to be someone else all day is, as you can imagine, incredibly draining. It can lead to burnout, depression, anxiety, and even suicide. Chances are that your autistic loved one masks sometimes, or perhaps even all the time, even if you don't realize it. Some autistic people have been masking for so long that they're struggling to take the mask off (unmasking) because they've become too disconnected from their natural behavior. Others can't stop masking because it'll put their job at risk, or their general safety, which is often the case for BIPOC.
How to accommodate
Most autistics have learned that the world isn't accepting of the way they are, and so they often don't feel safe unmasking outside of their home. As their loved one you can help by creating a safe space for them to unmask, for example by letting them stim* without judging, or accommodating them in their needs. The most important thing is to ask your loved one what they need to feel safe and accepted, as this is different for everyone.
*Self-stimulatory behavior, or stimming, is something many autistic people do to deal with overwhelm or to express their emotions. Examples are hand flapping, humming, rocking, and fidgeting, but it takes many forms. Autistic people are often told that stimming is bad, even though it's something that often helps them regulate their feelings.
5. "Picky" eating is common among autistic people.
Autistic people are often known as "picky" eaters. This term has a negative connotation, and because of that autistic people are seen as difficult. In reality, autistic people aren't "picky," they're just sensitive to certain tastes and textures. The autistic brain processes information differently, including sensory information such as taste. And where a non-autistic brain is often able to discard and muffle any information it doesn't need, an autistic brain doesn't have that filter, so everything gets processed and everything packs a punch. This is, in very simple terms, where the sensitivity comes from. With this in mind, it might then make sense that an autistic person wants to avoid foods they know they are sensitive to, because to them it's not just a bad taste or texture. It's something that can cause sensory overload.
How to accommodate
The simplest thing is to not make fun of your loved one for their eating habits and to actually support them. If they always pick the same food from the menu, don't shame them for it. If they say they don't like smoothies, don't try to persuade them to try a different one. If they don't like their food mixed, keep this in mind when cooking for them. It's really that simple!
6. Info dumping is a way autistic people share interests they're passionate about.
If you've ever witnessed your autistic loved one rambling on about something they're passionate about, you might have experienced info dumping. Autistic people often develop special interests. These interests can be more mainstream, such as astronomy, sports, or a video game, but they can also be something super specific, such as a country, a fictional character, or even a single physics law. People with special interests spend a lot of their time researching everything there is to know about their favorite topic and they like to share that information with others. They get excited about this and it's very important to them. Unfortunately, people aren't always willing to listen, and more often than not, autistic people are told they are weird or annoying for always talking about the same thing, which can lead to issues such as social anxiety.
How to accommodate 
If your autistic loved one starts talking to you about their special interest, they'd appreciate it if you listened and showed interest. However, if you're not in the mood to listen, it's best to be honest about that rather than to pretend, which your loved one will likely notice and take as rejection. An example of how to communicate this is by saying, "I'm not in the mood to listen right now, but I would like to learn more when I can fully engage. Can you tell me some other time?" This way you show them that you're not rejecting them and that you understand it's important to them.
Final thoughts
Every autistic person is different, so this list won't apply to everyone. In the end, the best way to support your autistic loved one is by asking them about their needs, accommodating them where possible, and celebrating the differences between the both of you. Communicating is the most useful tool one has in any type of relationship, especially when the person you love is very different from you.
Image by oneinchpunch via Deposit Photos 
Weighted stuffed animals are a great way to bring comfort into your home. These cozy companions can help with sleep and improve the mental health of children and adults with autism, anxiety, ADHD, PTSD, and more. In this complete guide to weighted stuffed animals, you'll learn about their psychological benefits and how to choose the right huggable gift for yourself or someone who could use emotional support.
As an autistic adult, I've learned you're never too old to have a soft stuffed animal to hug! I have put together this guide based on research studies and my own experiences, and I hope it will help other neurodivergent people, their parents, and their loved ones.
Last update was on: March 30, 2023 12:07 AM
The Benefits of Weighted Stuffed Animals
How does a weighted stuffed animal work?
Weighted stuffed animals are filled with glass or plastic poly pellets to make them heavy. Natural materials such as rice or flax seeds may also be used. Some can be heated in the microwave or frozen to provide heat or cold therapy; if that's what you're looking for, check out our article about Warmies weighted stuffed animals. The weighted filling provides soothing pressure that can alleviate a variety of mental health struggles including stress, trouble sleeping, autism meltdowns, ADHD overstimulation, and more.
Can a weighted stuffed animal help with sleep?
Weighted stuffed animals improve sleep quality by providing gentle pressure, similar to how weighted blankets work. They can help you feel calm and relaxed at bedtime. This makes them the perfect gift for nighttime cuddles!
Can a weighted stuffed animal help with anxiety?
Weighted stuffed animals offer therapeutic benefits for those struggling with anxiety or the aftermath of trauma. Deep pressure stimulation can reduce stress, as evidenced by multiple studies, including one where adults reported a 63% reduction in their anxiety from using a weighted blanket. If you are anxious, weighted products are well worth the small investment and can supplement treatments such as therapy and medication. If you get nighttime panic attacks or PTSD flashbacks, they can make going to bed a lot less scary.
Can a weighted stuffed animal help with autism?
Products such as weighted blankets, lap pads, wearable vests, and stuffed toys are go-to coping tools for children and adults on the autism spectrum for good reason — they work! The famous autistic professor and advocate Temple Grandin has researched this topic extensively and even designed a "hug machine" to address her sensory needs.
People with autism and other developmental disabilities often struggle with sensory processing disorder. Our brains do not process sound, sight, and touch in the same way as neurotypical people. We are prone to misophonia and sensory overload; sounds and sensations that others can tolerate can trigger an autism meltdown. Deep pressure stimulation helps us with sensory self-regulation by providing proprioceptive input.
Deep pressure therapy can be especially helpful for people whose disabilities make it difficult for them to communicate their feelings. A study found that deep pressure has immediate calming effects on children and young adults who have autism with a co-occurring severe intellectual disability. Many autistic people with intellectual disabilities and high support needs struggle with insomnia, which in turn impacts their caregivers, so giving them a weighted plush to hug at night can greatly improve a family's quality of life.
Last update was on: March 29, 2023 12:00 AM
How to Choose a Weighted Stuffed Animal
These tips will help you and/or your child stay safe, get the most out of using weighted stuffed animals, and select the right snuggle buddy for your needs.
Are weighted toys safe for babies?
Weighted stuffed animals are not safe for infants and toddlers under age 2, as they can become a suffocation hazard if the baby does not have the strength or physical ability to push the item away from their face. Infants should always sleep on their backs in a crib with tightly fitted bedding and no plush toys or other items.
Are weighted toys safe for young children?
For young children over age 2, weighted products should be used with caution and supervision. Weighted stuffed animals should not exceed 10% of a child's body weight. Parents, if your child has developmental delays, physical disabilities, and/or receives early intervention services, consult with their occupational therapist, physical therapist, and/or doctor to ensure they can safely use and free themselves from under a weighted blanket or heavy plush toy.
Before each use, check to make sure the stitching is secure so it won't come apart. Check for loose eyes and other potential choking hazards. I recommend buying weighted stuffed animals that are machine washable or have a removable insert so you can wash the soft plush exterior. Spot clean only items aren't a good choice for kids.
Are weighted stuffed animals good for adults?
Of course they are! You're never too old to hug a stuffie in bed at night. They fulfill a universal human need for soothing pressure. If somebody gives you a hard time about it, that says a lot more about them than you.
How do I choose the right weight for my needs or my child's needs?
Weighted stuffed animals typically range from 1 to 5 pounds. For kids, parents should choose a stuffed animal they can easily pick up and carry without assistance. If you're an adult, as a starting point, consider whether you prefer gentle pressure or a strong bear hug. Consider your own weight and any physical limitations that could make a heavier plushie difficult to carry or use.
It's often best to start off with a lighter weight and work your way up as needed. If you find that your insomnia, anxiety and/or sensory overload persist, you may need a heavier stuffed animal. On the other hand, if too much pressure makes you anxious or you wake up feeling overheated, you may need lighter weighted products. If you're really not sure where to start, I recommend getting a stuffed animal with a removable insert that's on the lighter side. Then you can add weight if needed.
What other factors should I consider before buying a weighted plush?
If you or your kid has sensory sensitivities, read about fabric texture and zoom in on photos to make sure the toy is soft enough to provide comfort. Most neurodivergent people hate the sensation of clothing tags touching our skin, so take a picture of the washing instructions and then cut off the tag before use.
Weighted Stuffed Animals We Recommend
I have many weighted stuffed animals of different brands and prices piled on my bed and couch, plus some cute weighted pillows, all of which I've recommended below. They make great gifts to honor your neurodivergent self-care needs or for a kid or friend.
This post contains affiliate links, so if you make a purchase, we may receive a small commission at no additional cost to you. As an Amazon associate, we earn from qualifying purchases.
Classic Weighted Plush Toys
Looking for weighted stuffed animals with classic themes? You'll find a bear, puppy, dinosaur, and more to ease anxiety and calm meltdowns. These can be well-suited for ages 3 and up.
Weighted Stuffed Animals for Kids
These weighted stuffed animals will appeal to your child — or your inner child. Disney fans will love their line of autism-friendly plushes from popular movies including The Lion King and Lilo and Stitch. I have a Stitch because I find his moods so relatable! I also have a Moon Bunny — I love her size and adorable face.
Cute and Kawaii Weighted Stuffed Animals for Teens and Adults
These cute and kawaii stuffed animals come in different weight options and make ideal sleep pals for kids, teens, and older. Cats that are also pickles? Why not!
Unique Weighted Plush Toys
If you need to axolotl questions about weighted stuffed animals before you buy, we've goat a lot of answers! If you're bored of the usual teddy bears and puppies, a weighted toy from this section will be just what you're looking for to sleep well at night or match your neurodivergent special interest.
Sloth Weighted Stuffed Animal
Sloths have their own section because they are one of my special interests, so I'm featuring several here and I hope you'll love them as much as I do! If you have trouble sleeping at night, they're the inspiration you need.
Animal Weighted Lap Pads and Pillows
Where is the line between a weighted stuffed animal and a weighted plush pillow? I find it tricky to decide, but if it's a pillow with a face, you'll find it here. I like to use a lap pad at my desk, or put it over my head and shoulders to help prevent an autism meltdown when I'm not at home because weighted blankets are too big and heavy to carry in public. A weighted pillow may be preferred by some neurodivergent adults to use in professional settings. They may also aid in sleep better than plushies.
Handmade Weighted Stuffed Animals
You can support a small business or even get a custom handmade weighted stuffed animal from these designers. I have a Mothman and it wraps around my chest perfectly. Maybe cryptid hugs aren't for everyone, but I bet lots of our autistic and ADHD community members will love them.
I've featured items from three neurodivergent business owners below. You can also check out their stores directly: The Moth Mama, Auticraft, and Aleximals.
Weighted stuffed animals may be small, but they can make a big difference in our mental health. If you give them a chance, these snuggly pals will surely become your new best friend in no time!
According to the U.S. Bureau of Labor Statistics, the employment-population ratio for individuals with a disability increased by 3.4 percentage points to 34.8 percent in 2022. On the other hand, the employment-population ratio for individuals without a disability increased by 1.9 percentage points to 74.4 percent. 
Individuals with a disability were found to be less likely to have completed a bachelor's degree or higher compared to those without a disability. Additionally, those with higher levels of education were more likely to be employed as opposed to those with lower levels of education.
For individuals with disabilities looking to change careers, pursuing a career in nursing can provide a fulfilling and rewarding path. However, traditional nursing programs can be time-consuming and require a significant investment of resources. 
Fortunately, Accelerated Bachelor of Science in Nursing (ABSN) programs offer an alternative for career changers who want to quickly and efficiently transition into the nursing field. ABSN programs are designed for individuals who hold a bachelor's degree in a non-nursing field and provide a streamlined path to a nursing career. 
For people with disabilities, ABSN programs can offer unique benefits and opportunities to overcome potential barriers to entering the nursing profession. 
In this article, we will explore the various benefits of an ABSN program for individuals with disabilities and how these programs are making nursing education more accessible and inclusive.
The Shorter Duration of ABSN Programs
The shorter duration of ABSN programs compared to traditional nursing programs can be beneficial for individuals with disabilities who may need to enter the workforce sooner.
Moreover, students with disabilities can also pursue the online acquisition of the program. Online accelerated second-degree BSN programs can offer several benefits for people with disabilities. These programs provide a flexible and accessible approach to education that accommodates different abilities and learning styles. 
Students can complete coursework from home, minimizing the need for physical travel or accommodation. Online programs also allow students to work at their own pace, enabling them to manage their studies around health needs or disabilities. 
Accelerated BSN graduates have high employment rates, offering opportunities for individuals with disabilities to enter the nursing field and contribute their skills and expertise.
Institutes like Marymount University also provide clinical placement support to their students. The admission requirement for Marymount University's online ABSN course includes a writing sample, one letter of recommendation, and transcripts with a minimum GPA of 2.8.
The Hands-on Clinical Experience Provided in ABSN Programs
Hands-on experience in the clinical setting is an invaluable aspect of an ABSN program. The hands-on experience can help students build confidence, develop skills, and establish relationships with faculty and staff members. 
As a result, this can be a supportive environment for individuals with disabilities to gain valuable knowledge about nursing practice.
A Range of Career Paths and Specialties
Nursing is a broad profession with many specialties. Nurses can work in hospitals, long-term care facilities, and private practices. They can work as educators or researchers, they can specialize in pediatrics or geriatrics, and the list goes on and on. 
In addition to providing direct patient care, nurses often assume leadership roles within their organizations and communities. As such, nursing offers individuals with disabilities a variety of career paths through which they may find professional satisfaction while also contributing positively to society at large.
Nursing Is a Respected and Rewarding Profession
Nursing is a highly respected and rewarding profession that can provide a sense of purpose and fulfillment for individuals with disabilities. Nurses are highly regarded by their patients, who appreciate the care they receive from nurses. 
In addition to providing excellent patient care, nurses also have the opportunity to make a real difference in the lives of those they help by using their skills and knowledge.
According to a MoneyWise report, for 16 consecutive years, Gallup has recognized nurses as the most ethical practitioners. They are widely regarded as devoted, compassionate individuals who derive pleasure from their job. A career in nursing can yield a median salary of $68,450.
The Demand for Nurses Continues to Grow
Nurses are in demand, and individuals with disabilities need to understand the benefits of a nursing career. Nursing is a stable profession that can provide job security and stability for people with physical and cognitive disabilities who may face additional barriers to employment. 
According to a report on Fierce Healthcare, the American Nurses Association (ANA) has announced that to fulfill job positions and replace retirees, the United States will have to generate 1.1 million fresh registered nurses by 2022. ANA statistics show that nearly one in five nurses are due to retire shortly. 
To cope with the aging population, wider healthcare access following healthcare reform, and the latest value-based healthcare model, ANA has suggested that the government invest in federal funding, nurse education, and recruitment practices to guarantee that the industry satisfies demand and prioritizes quality.
The Skills and Knowledge Gained Through the Program are Transferable
The skills and knowledge gained through an ABSN program can be transferable to other healthcare fields or provide a foundation for future education and career advancement. For example, you may decide that you want to work with children who have special needs in their homes or schools. Or perhaps you'd like to specialize in pediatrics or geriatrics but don't want to pursue nursing as your main career path. 
In either case, the training received in an ABSN program will help an individual with a disability in this area as well as many others.
Conclusion
We hope that this article has provided you with a better understanding of the benefits of an ABSN program for people with disabilities. The nursing profession can provide a range of career paths and specialties, which can provide opportunities for individuals with disabilities to find a niche that aligns with their skills and interests. 
Nursing is also one of the most respected and rewarding professions in today's world, so there's no shortage of reasons why someone should consider pursuing this career path.
Image via Pexels
As your loved one ages, it is not uncommon for them to experience physical or cognitive disabilities that require additional support and care. Hiring a nurse to provide assistance and medical attention can be a helpful solution for many families. 
However, finding the right nurse for your disabled senior loved one can be overwhelming. There are many factors to consider, such as credentials, experience, and personality fit.
This article aims to provide essential tips and guidance for families considering hiring a nurse for their disabled senior loved ones. By following these tips, families can ensure their loved ones receive the best care and support from a qualified and compassionate professional.
1. Determine Your Needs
Begin by assessing the care required for your loved one's disabilities or medical conditions. For example, consider medication management, wound care, physical therapy, and mobility assistance. You should also consider your loved one's preferences, lifestyle, and cultural or language requirements.
Additionally, consider the frequency and duration of care needed and the caregiver's availability and flexibility. A clear understanding of your needs will help you narrow your search and find a qualified and experienced nurse. It will also ensure that you and the nurse have clear expectations and goals for your loved one's care.
2. Conduct Research
Start by asking for referrals from friends, family, or healthcare providers who have experience with similar situations. You can also search online for local nurse agencies or organizations that provide care for seniors with disabilities.
Evaluate their qualifications, certifications, and experience, and check if they have any reviews or testimonials from previous clients. According to Hubspot, reviews and testimonials are used by individuals as a means of assessing the credibility and reliability of a product, service, or vendor before deciding to trust them.
Conducting a background check is essential to ensure they have a clean criminal record and appropriate licenses. In addition, don't hesitate to ask for references and follow up with them to better understand the nurse's work ethic, reliability, and communication skills.
3. Check Credentials and Education
When hiring a nurse for a disabled senior loved one, it's crucial to check their credentials and education to ensure they have the qualifications to provide appropriate care. Look for a nurse who has completed a nursing program and holds a valid nursing license. It's also essential to check if they have additional certifications, such as Certified Nursing Assistant (CNA) or Registered Nurse (RN).
If your loved one requires specialized care, consider nurses with relevant credentials, such as a degree or specialization in Adult-Gerontology, which provides advanced training in caring for older adults with chronic illnesses.
When searching for qualified nurses who have received specialized training in wound care, physical therapy, or other relevant areas, it's worth considering those who have completed advanced education programs. For example, you might want to look for nurses who have completed the adult gerontology nurse practitioner Master's program at a reputable, accredited institution like the University of Indianapolis.
This institute is accredited by CCNE and requires 46 credit hours of coursework. Furthermore, the University of Indianapolis was recognized as a Nursing School of Distinction in 2021 and is nationally ranked according to the US News & World Report.
4. Consider Experience
When searching for a nurse for your disabled senior loved one, it's crucial to consider their experience. Look for a nurse who has worked with seniors with similar disabilities or medical conditions. A nurse who has worked in a hospital or rehabilitation center may have experience with various medical issues and emergencies.
You can also look for nurses who have worked with seniors from diverse cultural backgrounds or who have experience working with individuals with dementia or Alzheimer's. It's crucial to mention here that according to Alzheimer's Association, more than 6.7 million people over the age of 65 will live with Alzheimer's in the US in 2023.
Hiring an experienced nurse will give you peace of mind and ensure your loved one receives high-quality care.
5. Conduct Interviews
Interviewing the potential candidates allows you to better understand their experience, qualifications, and personality fit. During the interview, ask specific questions about their experience working with seniors with disabilities, their approach to care, and their availability. It's also essential to discuss your loved one's needs and expectations and ensure that the nurse is comfortable providing the required level of care.
Consider how the nurse's personality and communication style align with your loved one's needs and preferences. Remember that hiring a nurse is not just about their qualifications but also about finding someone who can build a sturdy and positive relationship with your loved one.
6. Discuss Payment and Logistics
When hiring a nurse for a disabled senior loved one, discussing payment and logistics upfront is important. Determine the hourly or daily rate for the nurse's services and whether they will be covered by insurance or paid out of pocket. You should also discuss payment schedules and any additional fees, such as transportation costs or overtime fees.
It's also essential to discuss logistics, such as scheduling and communication methods, and ensure that the nurse is comfortable with the arrangement. According to a recent survey by Genworth, the national median annual cost rate for homemaker services is $59,488, while the average yearly cost for home health aide services is $61,776.
Consider how these costs fit into your budget and whether any financial assistance options are available, such as Medicare or Medicaid.
Discussing payment and logistics will help you avoid any misunderstandings or conflicts down the road and ensure a smooth and stress-free caregiving experience for you and your loved one.
7. Follow Up
Following up with the nurse you hire is essential to ensure your loved one receives the best possible care. In addition, establishing open and clear communication channels and scheduling regular check-ins to discuss your loved one's progress and any concerns or issues is necessary.
You can also provide feedback on the nurse's performance and address concerns or issues. Regular follow-up will not only help you ensure your loved one's well-being but also provide emotional support and reduce caregiver stress.
To Wrap it Up
Hiring a nurse for a disabled senior loved one can be challenging and emotional. However, by following these essential tips, you can ensure that you find the right nurse to provide the best possible care for your loved one.
These steps will help you find a nurse who is qualified, experienced, and a good personality fit for your loved one. Additionally, following up with the nurse regularly will help you ensure that your loved one is receiving the best possible care and providing emotional support. 
Remember, hiring a nurse is not just about their qualifications. It's also about finding someone who can build a robust and positive relationship with your loved one.
Stress is a common experience in modern life, and it can have negative effects on both mental and physical health. While stress is a natural response to challenging situations, it can become chronic and lead to burnout, anxiety, and depression. 
As per The American Institute of Stress, a significant number of individuals experience chronic stress in their workplace, with 94% of workers acknowledging feeling stressed while on the job. To cope with this stress and prioritize one's mental health, practicing self-care is an essential and valuable tool.
In this post, we will discuss the significance of self-care and offer practical methods for implementing it into your daily routine.
Why Is Self-Care Important?
Self-care is essential for managing stress because it helps to reduce the negative effects of stress on the body and mind. Self-care activities promote relaxation, reduce tension, and improve mood. 
By taking care of yourself, you are better able to cope with the challenges of life and maintain a positive outlook. Additionally, self-care helps to prevent burnout and promote resilience, allowing you to bounce back from stressful situations more easily.
The following are some self-care resources and routines that can help with stress management:
Online Stress Management Help
The internet is full of resources to help you manage your stress. Blogs, websites, and social media groups dedicated to stress management can provide tips, advice, and support from others going through similar experiences. 
One online resource that can be helpful for stress management is The Art of Living website. This website offers a variety of free resources, including a blog section that covers a range of topics related to stress management, including mindfulness, self-care, and resilience.
Furthermore, there are several online therapy and counseling programs accessible to assist you in developing coping methods and working through any underlying issues that may be contributing to your stress.
Deep Breathing
Deep breathing is a simple and efficient technique to manage stress and can be practiced at any time and in any place. MedicalNewsToday reported in a 2023 article that there is research that supports the claim that deep breathing techniques have a positive impact on an individual's anxiety and stress levels.
Place yourself in a peaceful, undisturbed spot to start by lying down or sitting down. Feel your stomach expand as you take a slow, deep breath through your nose.
After holding your breath for a short while, slowly let the air out of your mouth while relaxing your body. With your attention on your breath and the sense of calm in your body, repeat this process many times. Your heart rate will be lowered, your muscles should relax, and your mind can be calmed with deep breathing.
Meditation
There are numerous ways to practice meditation, which is a potent stress management technique. It emphasizes calming the mind and regulating emotions, and can aid in reducing chronic stress in the body while also lowering the risk of its negative consequences.
One of the simplest forms of meditation is mindfulness meditation, which involves focusing on your breath and observing your thoughts without judgment. 
To begin, sit comfortably with your eyes closed in a peaceful spot where you will not be disturbed. Take a few deep breaths and then concentrate on your breathing, imagining air going in and out of your body. Bring your focus back to your breath as soon as it starts to wander.
Meditation on a regular basis can help to reduce stress, promote feelings of relaxation and wellness, and improve attention and concentration.
Exercise
You don't have to be a fitness fanatic to benefit from exercise. You can experiment with several workout methods to see which ones are most effective for you. If you would rather be outside, you can take a stroll or jog in the park. If you'd rather stay inside, try yoga, Pilates, or strength training.
One of the most frequent excuses for not exercising is a lack of time. Yet, you must prioritize exercise by including it in your daily schedule. Even half an hour of exercise a day can reduce stress considerably.
Conclusion
In summary, stress is a common occurrence that can have a detrimental effect on both physical and mental health. Self-care is a crucial strategy for stress management and giving mental health the attention it deserves. People can lower their stress levels and foster calm and resilience by using online methods, deep breathing exercises, meditation, and exercise.
Never forget that taking care of yourself is not selfish but rather an essential part of living a healthy lifestyle. Self-care can help you feel better overall and handle life's obstacles better if you incorporate it into your daily routine.
Image by Omid Armin via Unsplash
The increasing number of people seeking assistance for mental health problems highlights the growing importance of this profession. Moreover, the need for trained experts in the field of mental health is growing in tandem with the rising demand for such services. This is where online master's degrees in family nurse practitioner (FNP) come in.
Programs leading to the Master of Science in Nursing in Family Nurse Practitioner prepare students for careers in mental health care. Also, thanks to the development of distance education, an MSN FNP can now be obtained without ever leaving one's house.
In this article, we'll discuss how online Master of Science in Nursing for Family Nurse Practitioner programs expand access to high-quality education and training, thereby enhancing mental health care delivery. 
Pros of Online MSN FNP Programs
Adaptability and Ease
The simplicity and adaptability of MSN-FNP programs online are two of their key advantages. Online Master of Science in Nursing – Family Nurse Practitioner programs like the one offered by Carson-Newman are playing an important role in improving access to mental health care services for individuals who may be unable to access traditional in-person care due to geographic or time limitations. 
By providing a flexible and convenient online learning environment, these programs enable students to acquire the knowledge and skills necessary to become competent and compassionate family nurse practitioners or advanced practice nurses, thus helping to address the growing demand for mental health care services. 
For students who have to juggle school work with employment, family, or other obligations, the flexibility offered by online programs can be a boon.
Reduced Costs and Fewer Impediments
Getting a Master of Science in Nursing (MSN) in nurse practitioners online might be cheaper than getting your MSN the traditional way, on campus. Students can save money on tuition, transportation, and other costs of life by taking online courses rather than on a traditional campus. 
More students from higher socioeconomic backgrounds may be able to take advantage of online education because of the reduced expenses associated with doing so.
Guaranteed Access to Higher Education
One of the numerous benefits of MSN-FNP programs online is the flexibility they provide in terms of study time and location. Online programs are comparable to their on-campus counterparts in terms of curriculum, teaching quality, and student outcomes. Online courses frequently combine cutting-edge pedagogical resources like live chat rooms, virtual laboratories, and immersive simulations.
MSN FNPs' Essential Responsibilities In Mental Health Services
Diagnosing and Evaluating Psychological Disorders
MSN-FNPs have an important role in the assessment and diagnosis of mental health problems. Diagnosing mental health problems such as depression, anxiety, bipolar disorder, and schizophrenia requires attentive care of patient symptoms and medical histories, as well as the use of standardized diagnostic methods. 
Mental health disorders can manifest in both the body and the mind, and MSN FNPs are equipped with the knowledge to recognize both sets of symptoms.
Planning and Executing Therapeutic Interventions
MSN FNPs are responsible for designing and implementing treatment regimens for patients with mental health conditions after conducting assessments and making diagnoses. Medication, talk therapy, and behavioral adjustments are only some of the methods that may be used. 
MSN FNPs learn how to tailor care to each patient's specific condition and history. They are also able to make changes to treatment regimens in response to patients' evolving conditions and responses.
Working with Other Doctors and Nurses
Mental health is an area in which MSN FNPs are uniquely qualified to assist patients and their families. To achieve this goal, it is often necessary to collaborate with other mental health specialists, such as psychiatrists, psychologists, social workers, and others. 
When patients seek help for mental health issues, MSN FNPs are generally the initial point of contact; they can assess the situation and recommend the patient to the appropriate specialist. In addition, they are crucial in ensuring that patients receive the best treatments and care possible.
In the field of mental health treatment as a whole, MSN FNPs are indispensable. Mental health specialists have extensive training in assessment, diagnosis, and treatment, and they collaborate with other medical staff to give patients the best possible care. 
Now more than ever, mental health professionals may get the education and training they need to make a difference thanks to the proliferation of online Master of Science in Nursing for Family Nurse Practitioner programs.
Conclusion
In conclusion, healthcare professionals are gaining access to the knowledge and skills necessary to make an impact in the mental health field thanks to online master's degrees in Nursing Family Nursing Practitioner programs.
These courses provide professionals with convenient and adaptable ways to gain the skills they need to assess, identify, and address mental health illnesses. More people nowadays are able to pursue careers in mental health care thanks to the accessibility and affordability of online education.
The rising need for mental health treatment makes it clear that online MSN-FNP programs will play an important role in meeting the needs of patients and communities. As long as money and effort are put into expanding online training for mental health professionals, the field has a bright future.
If you're looking to install a walk-in shower to make your home more accessible, but are worried about the costs of hiring someone to do it for you, why not install it yourself?
Simply ensure your environment is safe to work in and get prepared by having the correct electrical tools to get the job done. That way, you'll have your own walk-in shower before you know it!
Location and measurements
Choose where you want to place your walk-in shower to ensure it is located in the most convenient and accessible place for the intended user. 
If you are adapting an existing shower, be sure to accurately measure the space you have available to check that the adaptations will be possible. Switch off the water supply before demolishing any walls or floor tiles to make way for any new plumbing additions.
Mark out the exact location and measurements of your new walk-in shower with a pencil so you can accurately install your shower fixtures in the desired spot. 
Choose fittings
Choose your shower fittings to match your existing bathroom décor – it will look stylish and offer complete practicality, too. 
You should be able to purchase a standard walk-in shower kit that includes everything that you'll need. Don't forget to grab key plumbing essentials for your new shower, including a shower tray and a drain with a cover. 
Equipment
If you're a keen DIY-er, you'll likely have the majority of the equipment you'll need. If not, ensure you have all the necessary tools to begin with, such as power tools for drilling holes for support brackets and saws to get your panels down to size.
Having a tape measure and spirit level handy will ensure that your measuring is completely accurate. You don't want an uneven shower tray spreading all the water across your bathroom.  
Tiling and glass
Installing a new shower offers the perfect opportunity for you to choose some new, contemporary tiles for your bathroom. Be careful when cutting these out to accommodate your new fixtures, and be sure to cut them to size to deliver a smooth, clean finish.  
You'll need to be more careful when installing the large glass panels due to their fragility. Once your tiles have been set in place, install your glass enclosure and apply a waterproof sealant to the bottom and all sides of the glass to prevent any leakages.
Image by ABBphoto via Deposit Photos